Unfortunately, we are not available in your area!
You are visiting a version of our website that is outside of your region.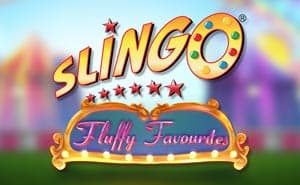 Slingo Fluffy Favourites
About Slingo Fluffy Favourites
The Bet UK online casino collection features many different Slingo games, but Slingo Fluffy Favourites is an edition that will appeal to those that are fans of the series of slots of the same name. The pink elephant is a staple of the franchise, and can help you to fill your card, which in turn will take you ever closer to one of the fabulous mini-games on offer. Each can lead to cash prizes, with advanced versions available for the more Slingos you complete.
Play Slingo Fluffy Favourites, and the slot that inspired it, on mobile, desktop or tablet here at Bet UK.
How to Play Slingo Fluffy Favourites
As with all Slingo games, the aim is to cross off numbers on your card to form full lines. Each line, also known as a Slingo, will take you closer to one of the game's prizes. Numbers are crossed off automatically by spinning the reel beneath the card, but Joker symbols allow you to cross off certain numbers manually.
To find out more about Slingo, why not take a quick look at our Slingo games guide?
Slingo Fluffy Favourites Prizes
Toy Box Pick
For five, eight, or 12 Slingos, you'll be granted access to a version of the Toy Box Pick feature. Depending on which you are awarded, you'll have three, four, or five picks of the various stuffed toys that sit within a classic claw grabber machine. Each has a multiplier value attached, and will contribute to your total cash prize.
Coin Pusher
Six or nine completed Slingos will trigger the Coin Pusher bonus, where you'll have either two or five coins to drop into the machine. These will then push a multiplier value over the edge, with the values combined at the end of the feature to award your total prize.
Hook A Fluffy
Seven or 10 Slingos award the Hook A Fluffy feature. As the stuffed toys float around the water, you'll have either three or five picks of them, which are added into your meter at the top of the screen. All have a multiplier attached, and in the advanced version of the bonus, your total winnings will be doubled at the end of the feature.
Bet UK Slingo Fluffy Favourites Review
Slingo Fluffy Favourites takes a step away from the rewards structure we've seen in most other Slingo games by offering bonus rounds instead of standard cash prizes. This helps to make it one of the more unique casino games of this type, putting it in a similar realm to Slingo Centurion and Slingo Rainbow Riches, which are both also inspired by existing online slots. The highest tier of the Toy Box Pick can prove to be the most valuable, but there are plenty of other great prizes up for grabs along the way too.