Unfortunately, we are not available in your area!
You are visiting a version of our website that is outside of your region.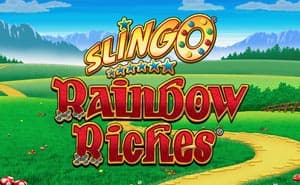 Slingo Rainbow Riches
About Slingo Rainbow Riches
The Rainbow Riches series of games has plenty of instalments that have added new and unique features such as those found in Rainbow Riches Megaways, but this Slingo offering once again steps away from the norm while still including the theme that has made the saga so popular.
As one of our top Irish slot franchises, the setting of this Slingo game reflects the ambrosial nature of traditional Irish folklore, with sweeping virid meadows and rolling hills as far as the eye can see. There's also the familiar jaunty leprechaun who can appear during a variety of bonus rounds that act as prizes for completing Slingos.
Play Slingo Rainbow Riches and other games in the series on mobile, desktop or tablet here at Bet UK.
How to Play Slingo Rainbow Riches
Total Bet
Use the red - and green + buttons in the bottom left of the screen to alter your total wager for the next round.
Spin
Start a round of Slingo Rainbow Riches by using the flashing 'Start Game' button to the lower right hand side of the card. The reel will then spin, with the total number of remaining spins indicated by the red number on the right. Each time a number on the reel matches one on your card, it will automatically be crossed off.
Other symbols can appear on the reel. Jokers allow you to cross off any number on the column in which they appear. Super Jokers allow you to cross off a number anywhere on your card. Free Spin symbols will award an extra spin at the end of the round. Devils will block columns to try and prevent you from completing Slingos on that spin.
Slingo Rainbow Riches Bonuses
Each time you complete a Slingo, you will advance one position up the bonus ladder to the left hand side of your card. Your current level will be indicated by the illuminated section. A minimum of five Slingos will be required to trigger a bonus feature.
Five Slingos
You will be able to collect the Wishing Well Bonus after five Slingos. Pick from the three wells to win a cash prize.
Six Slingos
Six Slingos award the Cash Crop Bonus. 50 gold coins will spin and reveal multiplier values that accumulate into one larger prize. There are up to four rounds to play through with increasing multiplier values on offer.
Seven Slingos
Seven Slingos award the Magic Toadstool Bonus. You'll be taken to a field of 24 Toadstools and given three picks that can reveal multipliers or Fairy symbols. Fairies will reveal three further Toadstool values. Clearing the field can double or triple your total win.
Eight Slingos
Eight Slingos award the upgraded Magic Toadstool Bonus. This works the same as the previous Magic Toadstool Bonus, but you get four picks and can quadruple your total prize for clearing the field, in addition to possibly tripling or doubling.
Nine Slingos
Nine Slingos lead to the Road to Riches Bonus, which lets you spin the wheel to move along the trail of multipliers until you land on collect, or the grand prize of 500x your total stake.
Ten Slingos
Ten Slingos will offer access to the upgraded Road to Riches Bonus, which works in exactly the same way as the standard version, but the multiplier values are doubled, meaning you could win up to 1000x your stake.
Full House
For all twelve Slingos, the Pots of Gold bonus sees a ring of pots with multiplier values attached move around the leprechaun. When they stop revolving, the pot that is above the golden arrow will be awarded as your prize.
Bet UK Slingo Rainbow Riches Review
Slingo Rainbow Riches is one of the top Slingo games we have in our collection, and with good reason. The theme is accessible and engaging even if you haven't played any of the other Rainbow Riches games, and the bonus rounds that will be awarded for completing enough Slingos can prove to be highly valuable. If you wish to learn more about the various instalments that make up this popular series, our Rainbow Riches guide will help, or for further games of this type Slingo Centurion could be of interest.