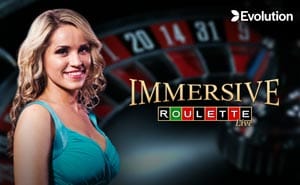 Immersive Roulette
Play Live Immersive Roulette
We trust you are already familiar with what Live Roulette is. That being the case, Live Immersive Roulette is a game specifically designed for online play. We love this game because it puts players in the middle of the action. Even though they are playing online via their computers or mobile devices, Live Immersive Roulette brings them up close and personal with every detail of the game.
At the heart of Live Immersive Roulette is HD video capable of streaming at up to 200 frames per second. We have high speed capability at our end, so if you have it on your end, you will experience a level of detail never before seen in live casino gaming. Video at 200 frames per second offers you a crystal-clear view of all the Roulette action.
If that sounds good, just wait. There's more to talk about. Live Immersive Roulette features multiple camera angles described as 'Hollywood style' by the game's designers. During play, the game frequently cuts away to different angles to give you a more comprehensive gaming experience. It is like the multiple camera angles of a televised sporting event.
The whole concept of Live Immersive Roulette is to take you out of the experience of playing at home and translate that experience into the closest thing to being at a land-based casino without actually being there. The level of detail in both audio and video components is incredible.
Learn How To Play Roulette Online
Live Immersive Roulette Strategy
In terms of actually playing the game, Live Immersive Roulette plays exactly like other Roulette titles. The Roulette table consists of a sleek and elegant Roulette wheel alongside the betting layout. European rules are in play here, so that means 36 numbers plus the zero pocket. There is a total of 37 possible outcomes on every spin.
At the lower portion of your screen are a series of poker chips. These are used to make your wagers. Just drag chips onto the layout to cover the bets you want to make. When the croupier calls for no more bets, he or she spins the wheel. The marble eventually drops into a pocket and winners and losers are determined.
You have the full range of standard Roulette bets to work with in Live Immersive Roulette. You can bet on columns, lines, groups of numbers, or any of the standard even money bets. Furthermore, you can place multiple bets on every spin. It is entirely up to you.
Our only advice is that you familiarise yourself with all the possible wagers before you play Live Immersive Roulette. Knowing exactly how to place your bets speeds up play and allows you to develop a Roulette strategy based on what you feel is the most effective way to cover the table.
One last thing: Live Immersive Roulette offers you the opportunity to interact with your croupier and the other players at the table. At the top of your screen is an icon that represents the game's chat tool. This is where you go if you want to make your thoughts public. Just enter your message and send it to the group. If your croupier feels the need to respond, he or she will speak directly to the camera. Make sure your sound is on.
About Live Immersive Roulette Bonus Features
Live Immersive Roulette brings an awful lot to the table. If what we have described isn't enough to convince you to play, we have one more special feature that just might convince you. That feature is the replay feature.
Thanks to the game's HD video at 200 frames per second, the level of detail is high enough to allow for slow-motion replays. Yes, you did read that correctly. After each spin, you can choose one of the camera angles to zoom in for a slow-motion replay of the marble dropping into the pocket. No other live Roulette game that we know of offers this feature.
If you've been looking for a truly immersive experience at a Roulette table, you have one of two options: either visit a land-based casino or play Live Immersive Roulette online. We recommend the latter. Live Immersive Roulette provides the experience you are looking for on your schedule and at your convenience. Play from anywhere you have an internet connection by logging in to our casino with your mobile device or computer.