Unfortunately, we are not available in your area!
You are visiting a version of our website that is outside of your region.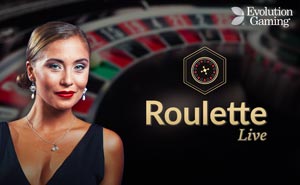 Live Roulette
How Live Roulette Works
Roulette in a land-based casino would involve choosing your table, stepping up, and placing your bets on the roulette wheel. A croupier would be on hand to acknowledge your bets before spinning the wheel for you and any other players who joined you at that table. All around would be the sights and sounds of the many games in the casino.
Along with the spinning, you would hear the marble travelling in the other direction and then bouncing around until it came to its final resting place. You would hear the cheers and jeers among winners and losers. It would be a truly top experience that can only be enjoyed while playing Roulette.
Our live roulette game is the closest you can get to the land-based experience while playing at home from your computer / android device. You'll see the same sights and hear the same sounds. You'll play with a real live croupier spinning the wheel and paying you your winnings. So sit back and enjoy the action. Live roulette online should definitely be a game you are going to appreciate.
Learn How To Play Roulette Online
Playing Live Roulette
As a casino game, roulette has been around for a long time. It is a game that combines luck with a bit of skill and an extensive knowledge of betting options. Its basic premise is simple: players place their wagers based on where they think the marble will drop once the roulette wheel stops. After all wagers have been placed, the croupier spins the wheel and drops the marble. Then everyone waits to see the result.
Players who wagered correctly win varying amounts based on the amount wagered and the bet that was wagered on. Those who guessed incorrectly lose what they wagered. It is all fairly straightforward.
In the live online roulette game, you place your wagers by dragging and dropping chips. You have a number of different buttons to work with, but there is nothing to worry about in terms of the learning curve. Our Live Roulette interface is very easy to use right from the start.
Betting in Live Online Roulette
The hardest part of Live Roulette is learning how the betting system works. There are lots of online guides that explain the betting system in clear detail. Bear in mind that some of those guides include betting strategies that allegedly increase your chances of winning big. None of the systems have been scientifically proven, just so you know.
You can bet two ways in Live Roulette. First are outside bets. These are the bets that appear on the betting table on the exterior of the Raceway. They include things like odd or even numbers, colours, and ranges of numbers. These bets have lower odds because they are more likely to occur. As a result, they also have lower returns.
Inside bets are the ones that appear on a table inside the Raceway. These are effectively just single numbers. Inside bets have higher odds and higher returns. The best part about Live Roulette is that you can place multiple bets on every spin. As long as you have the chips to cover your bets, you can place money on numerous options both inside and out.
Looking for something a little different? Then try Live Roulette. It might actually become your favourite online casino game ever.
Bet UK Evolution Live Roulette Review
Evolution provide a realistic online Roulette experience. With live dealers, perfect studio design and high quality production, you'll feel as if you're playing in a real casino. Evolution are leaders in providing live casino games and by playing Live Roulette you'll understand why.
Roulette Blogs