Unfortunately, we are not available in your area!
You are visiting a version of our website that is outside of your region.
Ultimate Guide to Snooker Betting
Betting on snooker may sound pretty straightforward when you first see the markets in Bet UK's sportsbook – but this is actually a complex and intricate sport, which is perfect for punters who love detail.
Whether you're new to the sport or an experienced snooker betting fan, the game has something to offer everyone. The bet range is huge – from simple wagers on who will win a match, through to detailed bets on which colour will be potted first, who will win the next frame, and the correct score.
Snooker's strategic gameplay and intricate shot-making have contributed to its widespread popularity. As a result, it's become a popular market for sports betting enthusiasts here at Bet UK. And we want to show you what you're missing out on!
In this snooker betting guide we'll take you through the stages of how to bet on snooker, detail the best snooker bets, and of course look at the World Snooker Championship.
How to place a bet on snooker
Let's start with the basics. You can bet on snooker at Bet UK within minutes when you sign up today. Simply hit the joint button at the top of the homepage, or download the Bet UK app! Enter your personal details, pass our ID and security checks, and make your first deposit.
After that, it's time to head over to the Bet UK sportsbook and explore the latest snooker odds! You can find all upcoming matches and outright markets in the sportsbook. Find a bet you want to back, click on the odds and the bet slip will open. Enter your stake, check the risk and potential payout, and when you're happy hit Place Bet to complete the process.
So, that's how you bet on snooker. But of course there are scores of different types of snooker bet out there for players to get their teeth into. If you've never bet on snooker before then you might not be aware of the huge range of wagering options available to you.
Below are some of the best snooker bets that could be right for you…
Best snooker bets
Match Betting – This is the most straightforward bet, where you simply wager on the outcome of a match, predicting the winner. Matches can be as short as a few frames, or as many as best-of-35.
Frame Betting – Bet UK lets you bet on individual frames, both before games and live, and the correct score. Here, you predict the correct score in frames between the two players. This can be more challenging than match betting, but it often offers higher odds and potential returns.
Handicap Betting – In handicap betting, we give one player a head start in terms of frames, allowing you to bet on a more level playing field. This can be an interesting option when one player is heavily favoured over the other, especially at the World Snooker Championship.
Tournament Outright Winner – You can also bet on the outright winner of a snooker tournament here at Bet UK. This can be a challenging bet to win, but the odds are typically higher, providing larger potential returns.
Highest Break – This bet involves predicting which player will score the highest break (a consecutive series of points) in a match or tournament. It can be an exciting bet, as it requires you to study players' break-building skills and form. To help with this, check out the Bet UK stats alongside every match.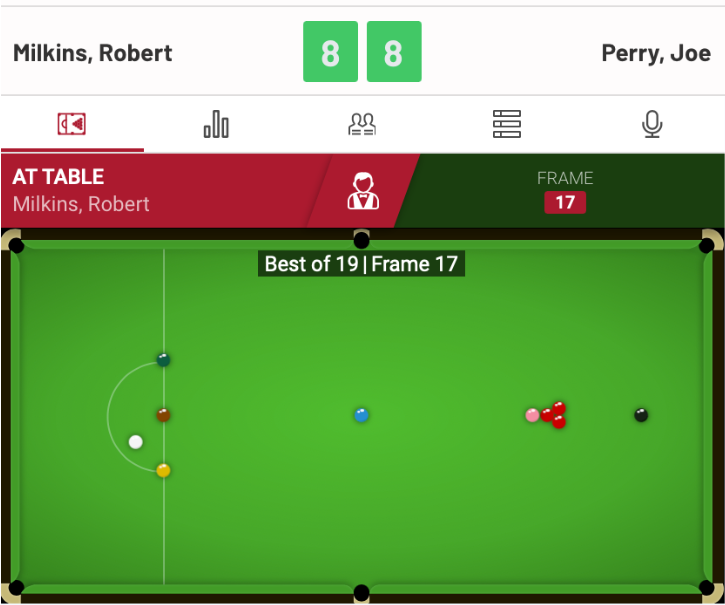 Remember, you can use the Bet UK live stats and ball positioning software to "see" the action in real time and make smarter bet choices!
World Snooker Championship betting
Betting on the World Snooker Championship is hugely popular and acts as the World Cup or Super Bowl of the snooker community. The world's top 32 players compete in Sheffield every spring, and there's always a wave of qualifying rounds and tournaments to get stuck into too.
It's often the case that bettors won't wager too much on snooker throughout the year, but then focus heavily on the Worlds. This means you need to do extra research if you're out of the loop. So, here are some top snooker betting tips for the action at the Crucible…
Study past performances – It's important to analyse the previous years' tournament results and players' performances since then, to identify patterns and potential upsets. Snooker, unlike tennis or darts, has more upsets than you'd think.
Look for value bets – The World Snooker Championship is a long and gruelling event. With multiple rounds and potential surprises, it's important to look for bets that offer value and high potential returns. Use the stats at Bet UK to help make these bet choices.
Consider form and momentum – The form of players heading into the World Championship can be a crucial factor. This is the last tournament of the season, and comes shortly after the Players Championship, WST Classic and the Tour Championship. Players who fare well in these events are likely to impress in Sheffield.
Monitor injuries and fatigue – It may sound strange but snooker players do suffer injuries, and need to be fit to go deep at the World's. Indeed, fatigue is a real problem in long games and can significantly impact a player's performance. Keep an eye on players' physical condition and recent match history, and see how late into the night they've played in previous games.
Snooker FAQs
What are the best snooker tournaments to bet on?
The World Snooker Championship is the best snooker tournament to get on because of the wide range of bet options and matches available to players. Other great snooker tournaments to bet on include: Players Championship, The Masters, UK Championship and the Shanghai Masters.
Can I bet on snooker at Bet UK?
Yes. Bet UK offers extensive snooker betting odds from the world's biggest tournaments, including The Masters, the Players Championship and the World Snooker Championship.
What is the best snooker bet?
There is no guaranteed winning wager when betting on the snooker, and most bettors tend to back the favourite in the match winner odds. However, other great bets to place are: frame bets, highest break and handicap bets.