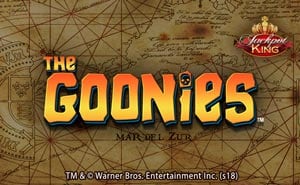 The Goonies Jackpot King
About The Goonies Jackpot Slot
Blueprint Gaming are one of the best when it comes to turning pop culture phenomenons into online slots games, and they're at it again, revamping the popular The Goonies slot. The difference this time around is the inclusion of the Jackpot King feature, a progressive jackpot that can potentially win vast amounts for lucky Bet UK players, as they spin the reels of this 5x3 game looking to utilise the 20 paylines.
Chunk, Data, Mikey, and the rest of the Goonies squadron are all here to try and help you accrue large wins. This can be done through an astounding 12 bonus features, with 6 base game modifiers, and 6 bonus rounds that offer Free Spins, Multipliers, and Instant Wins. The game's symbols are made up of pirate imagery relating to the treasure map seen in the film, alongside J, Q, K, and A symbols that will be familiar to live casino players.
Play The Goonies Jackpot Slot on mobile, desktop or tablet here at Bet UK.
How To Play The Goonies Jackpot Slot Game
Total Bet
In The Goonies Jackpot online casino game, you can edit the amount you are willing to wager on the next spin with the buttons on the left hand side, either the ▲ and ▼ arrows, or by selecting the 'Bet (£)' display directly and choosing a suitable amount for your online slots budget.
Spin
Once you are happy with your selected bet amount, you can play through one full single spin by clicking the Play button, the glowing circle with a green arrow, sitting beneath a skull to the right side of the display. Any wins that appear as a result of that spin will be directly added to your total balance.
Information
If you require additional information for The Goonies Jackpot slot, you can access the paytable, player information, and the settings through the menu button beneath the stake buttons.
The Goonies Jackpot Slot Bonus Features
One-Eyed Willy's Modifiers
On any spin, the skeleton symbol on the right may begin to glow. Sloth will then swoop across the reels, yelling out his catchphrase, and awarding players one of six base game modifiers. These are:
Chunk's Truffle Shuffle: Chunk will perform his 'Truffle Shuffle' across the reels, leaving wilds as he does so, which can enhance winning combinations.
Data's Colossal Symbols: Data's boxing glove on a spring drags a 3x3 Colossal Symbol onto the reels, before punching it to break it down into 9 matching symbols, which will produce guaranteed winning combinations that can be boosted if identical symbols have landed on reels 4 and 5.
Mikey's Hidden Treasure: Boulders fall from above the reels, possibly leaving fully stacked wilds in their stead. These can help to form payouts from winning combinations.
Mouth's Lucky Coins: Lucky Coins will be dropped to cover a random number of positions on the reels as they spin. Once they stop, any Lucky Coins will transform into matching symbols, potentially leading to wins.
Sloth's Win Spin: Sloth will swing across the reels, turning standard symbols into super-stacked jolly roger symbols for bigger wins.
One-Eyed Willy's Bonus Boost: 3x1 Bonus symbols will be added to each reel, and they'll all then begin to spin. One by one, they stop, and if three or more feature a Bonus symbol - either fully or partially - then players will be given the chance to spin the Bonus Wheel.
One-Eyed Willy's Bonus Wheel
If three or more One-Eyed Willy scatter symbols land anywhere on the reels following a single spin, players will have a chance to spin the Bonus Wheel. This will grant access to one of six bonus rounds. The awarded bonus round can be upgraded using the Gamble feature, but it could also be lost. The bonus rounds are:
Fratelli Hideout: Players will have to choose from three skeleton keys to either add a cash prize, find a hidden tunnel that leads to a new bonus feature, or collect and end the feature.
Goonies Go Wild Free Spins: Players are awarded five Free Spins on a new set of reels. At the end of each spin, one of the character symbols will be selected to act as a wild, until all four characters are wild on the fifth spin. After the round is over, players choose a silver doubloon to either collect the winnings, or add extra Free Spins.
Inferno Free Spins: Players are taken to a new set of reels. As the boat sails behind them, it will turntwo of the reels into fully stacked wilds, to help form winning combinations. At the end of the round, players will have the chance to spin the Bonus Wheel, either landing on collect and ending the feature, or landing on one of the other bonus rounds.
Skeleton Organ: Players will have to choose various keys that make up the Skeleton Organ. Each either reveals a multiplier value, a skull, or a jolly roger flag. Multipliers accumulate, three skulls unlock a different bonus feature, and three flags end the round.
Super Sloth Free Spins: Players are awarded ten Free Spins. During the round, if a Super Sloth symbol lands on the reels, he'll swoop down and turn Fratelli character symbols into jolly roger wilds. At the end of the round, choose a treasure chest to potentially be awarded extra Free Spins.
One-Eyed Willy's Treasure: One-Eyed Willy's Treasure is the most valuable round in the game, as it can lead to tremendous jackpots. Players spin the wheel to add multipliers to either side of the scales in turn, until they tip and trigger a booby trap, ending the round.
Jackpot King Feature
The Goonies Jackpot includes Blueprint Gaming's Jackpot King feature.The jackpot reels can then be spun to try and find 15 or more golden crowns. Doing so will grant access to the Wheel King feature, which contains astounding prizes, such as colossal multipliers and huge jackpots.
Bet UK Review: The Goonies Jackpot King Slot Game
The Goonies slot is well established within Bet UK's online casino, but the ante has well and truly been upped with this Jackpot version. Essentially, a 13th bonus feature has been added to a game that already boasted fantastic winning potential. The best thing about Blueprint Gaming's Jackpot King system is that there are myriad games that work towards the same jackpot, such as Cop the Lot. Another popular mechanic in Blueprint slots is the Megaways format, which can offer thousands of ways to win on a single spin. If you want to try something different to slots, then check out our online betting markets, where you can also explore our Horse Racing and Football tips.