Unfortunately, we are not available in your area!
You are visiting a version of our website that is outside of your region.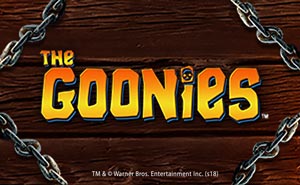 The Goonies
About The Goonies Slot
The Goonies is an online casino slot game that has 5 reels, 3 rows and 20 paylines. The game is heavily based on the massively successful film of the same name, featuring all of your favourite characters from the cult classic including Chunk, Data, Mikey, Mouth, Sloth and more!
Look out for the potential of in-play modifiers during any spin of The Goonies slot game, which can be activated in a number of different ways. If the Skeleton Key to the side of the reels begins to glow, 1 of 6 modifiers will be available to claim such as; Chunk's Truffle Shuffle, Data's Colossal Symbol, Mikey's Hidden Treasure and Mouth's Lucky Coin.
There are 6 bonus rounds that could be triggered too, all of which could add to the winning potential in The Goonies slot game. The bonus rounds include Fratelli's Hideout, Super Sloth's Free Spins, The Goonies Go Wild and One-Eyed Willy's Treasure.
Now with a sequel, The Goonies Jackpot King, you can play both titles right here at Bet UK on the device of your choosing.
How To Play The Goonies Slot
Total Bet
In The Goonies slot, you can edit the amount you are set the wager on the next spin by using the up and down arrows, which are located above and below the current bet amount. The minimum bet that can be placed in The Goonies slot game is £0.10, while the maximum bet for a single spin is £500.
Spin
If you are happy with the bet amount, you can set the game to play through one full single spin by clicking the Play button, which is found as part of the Skeleton Key to the right-hand side of the game interface. Any wins that are found during that spin will be added to your balance.
Information
If you ever need a bit more information on The Goonies slot game, you can access the Paytable by clicking the Menu button followed by the Paytable button. You will then be able to view the value of each symbol as well as some more details on each bonus round.
The Goonies Slot Bonus Features
One Eyed Willy's Bonus Rounds
If you happen to find 3 or more bonus symbols in The Goonies slot game, you will trigger One Eyed Willy's Bonus. This will then take you to spin a pirate ship wheel to claim one of six bonus features at random. You could gamble your way through to claiming One Eyed Willy's Treasure. After hitting each bonus feature, you will have the choice to either Collect or Gamble for a different bonus round.
Fratelli Hideout
In Fratelli Hideout, you will be presented with 3 Skeleton Keys. If you pick a Cash Add at random, you'll be awarded with a cash prize. By finding Collect, the round will end and you will be credited with any wins. You can also find the Hidden Tunnel, but will you discover some riches?
Skeleton Organ Bonus
In the Skeleton Organ Bonus, you will be presented with bones to pick at random to reveal a prize. Finding the pirate skeleton symbol will upgrade the wins or features that are found. Find a Skeleton Key and the doorway will be unlocked, which could lead to more riches. If you find 3 Jolly Roger flags, the bonus will end.
Super Sloth Free Spins
You will be awarded 10 Free Spins to play through. If Sloth runs across the screen, he will turn a number of symbols into Super Stacked symbols, which are the highest paying in the game.
The Goonies Go Wild Free Spins
This is a Free Spins round that has the Goonies gang as a Wild symbol that can help towards finding wins. Once the spins have been used, you will be given 5 coins to choose from. You may be given more Free Spins to keep the bonus going, but if you find Collect then the bonus round will end.
Inferno Free Spins
In Inferno Free Spins, up to 3 Inferno Wild Reels can be active during any spin. The ship will sail along the background and create entire reels of Inferno Wilds as one large block as it moves along. This can help lead to big wins that may not have been possible before.
One Eyed Willy's Treasure
The One Eyed Willy's Treasure feature is the last of the bonus rounds. It is played on weighing scales that can tip to either side. Find a Green Gem symbol to receive a cash multiplier, while a Red Gem symbol will multiply your current bonus win. A Silver Diamond will upgrade you to increase any cash and win multipliers, and finding the Booby Trap will end the One Eyed Willy's Treasure Bonus round.
One Eyed Willy's Riches Modifiers
These modifiers can be found on any spin in the base game, and will be set off by the Skeleton Key lighting up with a green glow. You will then choose between 3 random keys and thus be given a modifier.
Mikey's Hidden Treasure
Rocks will fall from above the reels and force Wilds with the character Mikey on them to cover entire selected reels. This can help to form winning combinations in The Goonies slot game.
Mouth's Lucky Coins
Lucky Coins will be thrown onto the reels and scattered around. They will then turn to reveal a bunch of identical symbols, which can cause wins to form.
Sloth's Win Spin
In Sloth's Win Spin, Sloth will run across the reels a number of times and turn random symbols on the reels into Super Stacked symbols, increasing your chances of landing a winning combination for that spin.
Chunk's Truffle Shuffle
Chunk will do the Truffle Shuffle from side to side across the reels, throwing Wilds into the game in scattered areas. Again, this can help you towards possible winning combinations.
One Eyed Willy's Bonus Boost
One Eyed Willy's Bonus Boost adds reel covering One Eyed Willy symbols onto the reels and sets off the bonus round, sending you to the bonus wheel to spin through in order to decide which of the bonus rounds you will receive.
Data's Colossal Symbols
Larger Colossal symbols are added to the game that will span across a couple of the reels. The boxing glove on a spring will then punch the Colossal symbol to create normal sided identical symbols. This leaves many of the same symbol on the reels, increasing the chances of finding a win.
Bet UK The Goonies Slot Review
Bet UK is delighted to present The Goonies online slot game from Blueprint Gaming. This is an incredibly stacked slot, with a massive amount of bonus rounds plus loads of modifiers that can be applied to any spin. The graphics are absolutely tremendous too, and really do the film justice. You can't really go wrong with combining a Steven Spielberg classic with an online slot format, and the developer has certainly delivered here. In fact, this could even become one of the best Blueprint Gaming slots at Bet UK. For more from us, take a look at our online casino blog hub and online betting markets.