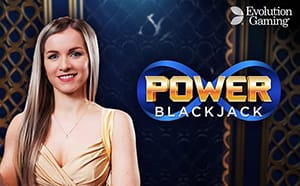 Power Blackjack
About Power Blackjack
Evolution Gaming are consistently staying true to their name and adapting to offer further premium live casino and table game instalments to keep your gameplay experiences fresh and dynamic. Power Blackjack continue this proud tradition, by offering an unlimited number of seats around the table for each round, as well as some innovative betting options such as tripling and quadrupling down, instead of merely doubling down as found in traditional Live Blackjack. There's also the removal of 9s and 10s from each of the eight decks in play, offering the opportunity to develop some fresh strategies.
Play Power Blackjack on mobile and desktop right here at Bet UK.
Learn How To Play Blackjack Online
How To Play Power Blackjack
Total Bet
Select the chips you would like to place on the next hand and move them into your betting box. You are also free to place a wager on any of the four side bets if you wish, which include Any Pair, Bust It, Hot 3, and 21+3. Further information on these can be found within Power Blackjack's paytable.
Bet UK Power Blackjack Review
Evolution Gaming have a wide selection of online casino games in our collection, but Power Blackjack offers a unique take on what is one of the most popular card games in the world. With the wait time to find an available seat removed entirely, and the opportunity to triple or quadruple down - even after splitting - there are plenty of features that offer an enterprising experience for Blackjack novices and experts alike. For more games with a distinctive element of gameplay, you may be interested in Evolution's Live Mega Ball.