Unfortunately, we are not available in your area!
You are visiting a version of our website that is outside of your region.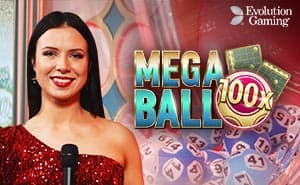 Live Mega Ball
About Mega Ball
Mega Ball expertly combines elements from a variety of different casino games, including bingo and the lottery, in order to create one of the most intriguing live casino titles in our collection here at Bet UK. Evolution Gaming have consistently added innovation to their releases, and Mega Ball continues that proud tradition.
As a fast paced game in an immersive environment, Mega Ball is accessible for anyone that is looking to play a unique live casino instalment, regardless of personal budget. Cards can be purchased from as little as 10p, up to a maximum of £100. The aim of the game is to form winning lines across these cards, and with added multipliers the potential cash prizes can be huge.
Play Mega Ball and more of the best live casino games on mobile and desktop right here at Bet UK.
How To Play Mega Ball
Total Bet
Use the + and - buttons at the bottom of the user interface to set the card value. Then you can choose how many cards you wish to purchase for the next round of Mega Ball by selecting the options of +1, +10, +15, or +25. You can select the same value more than once, to form a total number of cards up to a maximum of 200. The total value of your bet will be displayed in the bottom left, next to your balance.
Refresh Numbers
The numbers on the cards will be random, but if you highlight any individual card you can refresh the numbers on it while the betting window is still open, until you are happy with the layout.
Play Mega Ball
Once the betting window is closed, 20 of the 51 balls will be drawn from the machine, and any that appear on your card will automatically be crossed off. Any winning lines per card will be highlighted, and after any multipliers have been applied and the round has ended, the winnings will be added to your balance.
Information
If you require additional information about Mega Ball, you can access the settings, live chat, and help through the buttons in the upper right.
Mega Ball Bonus Features
Mega Ball Multiplier
The interactive wheel will be spun to determine the value of the multiplier that will be applied in this bonus. This can range between 5x and 100x. One final ball is then drawn from the machine, which will act as the Mega Ball. If this number completes any line on your card, the winnings will be multiplied accordingly.
Bet UK Live Mega Ball Review
If Monopoly Live and Deal or No Deal Live are anything to go by, the game show format is a big hit with Bet UK players, and we're no doubt that Evolution's Mega Ball will help to build our status as the best live casino in the business. The game offers a fresh take on traditional live casino formats, with massive jackpots available if the Mega Ball multiplier works in your favour. For further innovative live casino games, you can always take a look at Live Dream Catcher, but if you're after something different you may be interested in the best online slots at Bet UK.