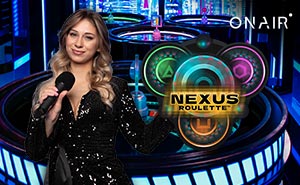 Nexus Roulette
Nexus Roulette Introduction
If you're looking for a live roulette experience with a difference, why not place your bets at the Nexus Roulette table? Set in an immersive live studio with a modern techno backdrop, this roulette game is hosted by a live dealer who'll be on hand to talk players through all aspects of the game, including placing your bets and the additional bonus features on offer.
Nexus Roulette Special Features & Bonus Rounds
Like many live casino games, Nexus Roulette doesn't have any bonus rounds, but it does feature additional bets and wheels, which can increase your winning potential. First up is the racetrack, which can be accessed by a specific button, and this offers an alternative betting layout with unique betting options, including Orphelins, Voisins du Zero and Tiers. Next is the drag and drop, which allows players to move chips after they have placed a bet, and finally, it's the other special bets on offer.
How to Play Nexus Roulette
Before playing any roulette game, players will need to set their stake, which can be done in the menu options. They can then place a multitude of roulette bets, including the traditional inside and outside bets, alongside the special bets on offer within this game. After the betting time has concluded, the dealer will release the ball, and the wheel will spin. If you have bet on the correct number, winnings will be added to your account.
Within this game, there are a number of payouts on offer due to the four-wheel mechanic in play. The max payout on offer is 4999:1 if you can land a straight-up bet on all four of the wheel. However, if you choose to place a Nexus bet, the payout on four wheels will be 499:1 your stake.
Similar Games to Nexus Roulette
If you're looking for more roulette games, why not see what else we have below: