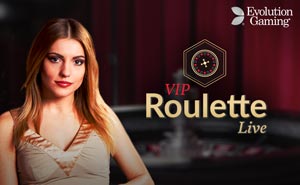 Live VIP Roulette
How To Play Live VIP Roulette
Live VIP Roulette has one major difference from the normal Live Roulette game, which is the size of the stakes. Players usually become VIP Players by wagering higher stakes than the average player, therefore it is only natural that the stakes in Live VIP Roulette will generally be that little bit higher too. This is not to say that every stake will be extremely high, it just could be a case of placing larger wagers from time to time.
The Live VIP Roulette game is streamed in real-time from a studio, with a professional croupier in charge of the game. Each croupier is highly experienced and knows what they are doing, so there is no need to worry. You will be able to interact with the croupier through the audio and chat feature in the game, making the real-life experience that much more rounded.
Playing Roulette at an online casino is probably even easier than doing so at a land-based casino. You will see all of the same sights and hear the same sounds as you would during a land-based casino experience, but from the comfort of your own home. The gameplay of Live VIP Roulette is only slightly different from the standard due to the occasional higher stakes.
Live VIP Roulette Rules
The rules of Live VIP Roulette are very similar to that of the standard roulette game. The roulette wheel has 37 pockets, each with a number. As the player, you will place a wager on where you think the marble ball will drop once the roulette wheel has stopped spinning. To place a wager, you can drag and drop your chips. Once all wagers have been successfully placed, the croupier will set the wheel into motion and drop the marble.
If the marble lands in a section of the wheel that you have bet on, you will be paid as a winner, with the amount depending on the amount wagered and the bet placed. In VIP Auto Roulette, the minimum bet is £5, with a maximum bet of £20,000. This is a game that can appeal to all budgets, so don't be put off by the VIP tag.
Live VIP Roulette Features
One of the best features of this online casino game is the superb player interface, which actually allows you to change the camera angle to one you would prefer. Live VIP Roulette is available to play on mobile, tablet and desktop, so the choice is yours. The red tables give things a little bit of an extra exclusive feel. A number of side bets and favourite bets are available in the game, in addition to the regular wagers. Up to 15 bet patterns can be saved, which will massively simplify the whole betting process. On the whole, Bet UK believe that Live VIP Roulette from Evolution Gaming will provide a great online casino experience, one for those that see themselves as high-rollers.
Roulette Blogs