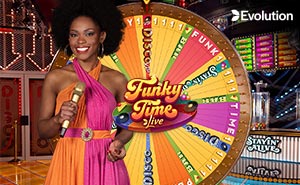 Funky Time
Funky Time STATS
Provider - Evolution Gaming
Game Style - Live Casino
Theme - Gameshow
Bonus - Bar, Stayin' Alive, Disco and VIP Disco
Max Win - 10,000x
Volatility - High
Funky Time Top Features
Evolution just keep evolving, we've gone from Live Dream Catcher to Live Crazy Time and now we've reached Funky Time! A unique game that takes the very best elements from both Live Dream Catcher and Crazy Time, implementing them with great effect. With the BAR, Stayin' Alive and Disco bonuses there are some of the most unique bonuses in casino history in this game.
BAR bonus
When the wheel spins and lands in the BAR bonus section, you'll be transported to a local entertainment facility where you'll pick one of the funky drinks shaken and stirred by our robot server and the drink will come with a win multiplier attached.
Stayin' Alive Bonus
Our live dealer takes you to our beloved bingo rooms where three balls will be shot up from the machine, choose which of the three balls you wish to pick and watch those balls appear throughout the bonus to provide bigger multiplier values! If you're a fan of the Mega Ball Live Bingo game, this is a bonus we recommend you play for.
Disco & VIP Disco Bonuses
Finally we have the two bonuses that cement what Funky Time is all about! Join Mr. Funky on the dancefloor and watch him dance his way around the floor, picking up the multipliers in his way.
The VIP bonus has less chance of landing but more chances of landing big with higher multiplier values.
Three Things You Need to Know about Funky Time
How to set your stake
In the bottom left corner of the reels, you'll find a section that says total bet. Click on this section to see a selection of casino chips. Click the casino chip and place it on the section you wish to bet on to play the game.
How to play the game
Once you've decided where you bet on in Funky Time, you will have to wait until the allocated time has expired and the game will automatically payout.
Percentage Chances of Success
| Section | 0/64 | Percent |
| --- | --- | --- |
| Number 1 | 28/64 | 43.75% |
| Letters | 24/64 | 37.50% |
| BAR | 6/64 | 9.375% |
| Disco | 3/64 | 4.687% |
| Stayin' Alive | 2/64 | 3.125% |
| VIP Disco | 1/64 | 1.562% |
When was Funky Time released?
The game was one of the first releases from Evolution in 2023 with the original teaser going out in February 2023, creating hype ahead of the April 2023 release.