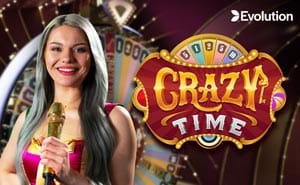 Crazy Time
About Crazy Time
If you've played the likes of Monopoly Live or Live Mega Ball then the chances are you're a live casino enthusiast who wants an upgrade from classic table games like Roulette and Blackjack. Crazy Time is another diverse option for you to explore if you choose, with some formidable bonuses and jackpots to be found. Friendly hosts are on hand to chat about a range of topics as they spin the wheel and keep you engaged throughout each round of gameplay.
Play Crazy Time on mobile and desktop right here at Bet UK.
How To Play Crazy Time
Total Bet
Select your wager between each round and place your desired value on the area of the board of your choosing, either the numbers 1, 2, 5, or 10, or any of the four bonuses.
Play Crazy Time
The wheel will automatically spin after the 12 second betting window has closed. If the wheel lands on your chosen segment, you will win the corresponding prize.
Information
If you require additional information about Crazy Time, you can access the settings and help through the buttons in the upper right.
Crazy Time Bonus Features
Top Slot Multiplier
As each round commences, the slot machine at the top of the wheel will come into play, spinning to reveal a random multiplier value and one of the available segments. If the wheel lands on the chosen segment, the multiplier will be attached to any payouts.
Bonus Segments
If you placed a bet on one of the bonus segments being landed on and it is successful, you'll be given the chance to win a cash prize.
Cash Hunt
A wall of symbols will be revealed, and you'll have to fire your virtual cannon at any section you choose. After you've selected, the values will be revealed, and you will win the corresponding prize.
Coin Flip
A blue and a red multiplier will be displayed, before the host flips a coin. Whichever colour lands face up will see that multiplier attached to your total bet and paid out.
Crazy Time
Choose a coloured triangle before the virtual Crazy Time wheel begins to spin. Whichever multiplier value stops on your selected triangle will be awarded to you.
Pachinko
Pachinko will drop a token at random from the top of the screen, that then bounces and rebounds off the pegs on its way to the multiplier sections at the bottom. Whichever multiplier section it lands in will be applied to your winnings.
Crazy Time Review
Evolution are responsible for some of the best live casino games in our collection here at Bet UK, and Crazy Time is another exceptional addition to an already impressive arsenal. While the likes of Live Dream Catcher are staples of the format, Crazy Time offers some unique features that expand upon a fantastic mechanic. For other online casino games that offer a huge amount of innovation, why not take a look at our Slingo titles?