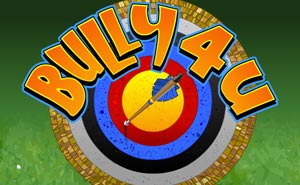 Bully4U
About Bully4U Slot
Bully4U is a three reel, five win line online slot game which awards wins for matching 3 consecutive symbols, left to right, on any active winline.
How to Play Bully4U Slot
Select the total bet by using the up and down arrow buttons and press START to spin the reels. When a winning line is obtained: The winning symbols will be highlighted. The win line(s) and payout information will be displayed and the total amount won will be shown. Bully4U has a maximum payout of 500x the total bet value, per game.
BULLY4U SLOT BONUS
The Bully4U Bonus is triggered when any symbol in the centre line of the centre reel is completely surrounded by another symbol. The symbol which has been surrounded will fill the screen and activate all 5 winlines.
Bet UK Bully4U Slot Review
Bully4U is an online casino game that is likely to also appeal to darts betting enthusiasts, given its theme. It's also heavily inspired by land based pub fruit machines, so has a lot going for it if you're a player looking to bridge the gap between traditional and modern slots gameplay.