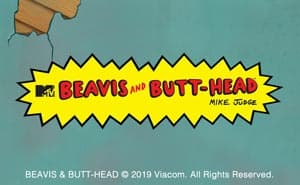 Beavis and Butthead
About Beavis and Butthead slot
The Beavis and Butthead slot is an online casino game that features 5 reels, 3 rows and 20 paylines. This is a slot developed by Blueprint Gaming and based heavily on the animated series of the same name that was extremely popular in the mid-1990s and briefly in 2011. The reels are placed on the TV with the delinquent duo watching on from the comfort of their sofa. They can also appear as symbols on the reels, while the Burger World symbols act as Wilds that can substitute for most other symbols.
Watch out for modifiers on any spin, as one of eight could be triggered at random. You will also get the random choice of six bonus features if you are able to land three or more Hollywood Walk of Fame symbols. These bonus rounds are; Don't Be A Buzzkill, Customers Suck, To 'B' or not to 'B' Free Spins, Maxi Mart Free Spins, The Great Cornholio Free Spins and Just Deserts Big Money.
The Beavis and Butthead slot is available to play here at Bet UK via mobile, desktop and tablet devices.
Beavis and Butthead Modifiers
Couch Your Cash!
A great aspect of the Beavis and Butthead slot from Blueprint Gaming is that a number of marvellous modifiers can be triggered at random on any spin.
Die Fly, Die!
See a fly buzzing across the screen and watch as they attempt to swat it away. While they do so, they can place Wilds onto the reels at random.
Cornholio Wilds
The alter-ego of Beavis can make an appearance on the reels, as he turns selected reels into fully stacked Wild Reels.
Colossal Couch Fishing
Look out for those 3x3 Colossal Reels with three adjacent reels being combined after the fishing rod is cast onto the reels.
So Nacho!
Looking for a snack, Beavis and Butthead pull out a bag of nachos and in typical fashion get it horribly wrong, causing the nachos to fly into random places on the reels. They will then turn into identical symbols to hopefully cause winning combinations.
Butt Flambe
Chugging a bottle of hot sauce is never the best idea, and it can cause Beavis to unleash fire across the reels and potentially trigger one of the bonus rounds.
Some Like it Hot
Some people never learn, and in this case both Beavis and Butthead can down hot sauce and burp flames onto the reels, causing a winning combination to form.
Sofa Slugfest
The fishing rod may make a spectacular return, in order to get stuck in Beavis' hair causing him to fly across the reels and crash into certain symbols, replacing them with new symbols.
Change The Channel
Butthead may decide to pick up the remote and change the channel, causing the reels to spin and create a winning combination.
Beavis and Butthead Slot Bonus Games
Land three or more Walk of Fame symbols and you will trigger the bonus picker. Decide between six film squares and you will be offered one of the six bonus symbols. There is the option to gamble the bonus round that you get, in order to claim a bigger bonus.
Don't Be A Buzzkill Bonus
Coach Bradley is a very angry man, so angry in fact that he has a rage meter on the wall in his office. Your job is to choose between Beavis and Butthead who are sat in front of the desk. Choose correctly and a cash prize can be awarded. Choose incorrectly though and face the ire of Coach Bradley as the rage meter fills up.
Customers Suck! Bonus
Head to the famous classy restaurant that is Burger World, as a unique bonus round allows you to pick between four columns of food boxes. Each food item will have a multiplier, which can be increased by landing the Burger World logo which acts as an upgrade. Keep an eye out for golden burgers, as landing three can upgrade you to a bigger bonus round. Alternatively, the mischievous Beavis and Butthead have placed some worm burgers in there. Land three of those and the bonus round is over.
To 'B' Or Not to 'B' Free Spins
Unlock the To 'B' Or Not to 'B' Free Spins and receive 10 Free Spins with the chance of either main character to turn into Wilds. Free Spins can be retriggered by landing three or more Hollywood Walk of Fame symbols again. Land six and the Just Deserts bonus can be triggered.
Maxi Mart Free Spins
Bizarrely, you can become part of a vending machine with the Maxi Mart Free Spins round. 12 Free Spins are awarded to begin with and are played through automatically. Keep an eye out for Maxi Gulp cups as they can be filled and Wilds awarded. Tokens can be collected throughout the round, with three tokens triggering some Super Spins and six tokens triggering the top Just Deserts round.
The Great Cornholio Free Spins
The eccentric alter-ego Cornholio is stuck in the school bathroom this time around with six Free Spins, and if he appears in one of the cubicles he can cause that entire reel to turn Wild. Once again there are tokens in the round, three will provide Super Spins and six triggers the Just Deserts bonus.
Just Deserts Big Money Bonus
As you might expect with the name of the feature, Beavis and Butthead have found themselves stranded in the desert. In order to help them find their way, you can choose between three skulls which either provide a number of steps or a Collect message. Each step the duo take represents a multiplier or an oasis with a special prize. You won't claim the prizes that they walk past but you will gain the ones they land on. Collect means that the round will end, while they may also collapse from exhaustion.
Bet UK Beavis and Butthead Slot Review
Beavis and Butthead is an incredibly unique UK casino slot game for a number of reasons. First of all, there is no other theme like this, as it is specifically linked to the hilarious MTV show. Secondly, as is the case with many Blueprint Gaming slots, such as Cop the Lot, there are so many unique bonus rounds and modifiers that you could trigger, meaning there is plenty of winning potential. If you enjoyed the Beavis and Butthead slot, we think you may also like another classic, The Goonies slot. But, if you're looking for something a bit different, you can take a look at our online casino blog or place your next sports bet.