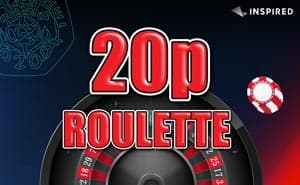 20p Roulette
About 20p Roulette
Roulette is one of the best live casino games that we have in our collection here at Bet UK, but Inspired Gaming offer an automated table experience for players, with bets able to be placed from as little as 20p increments. All of the other inside and outside bets you may be familiar with are available, with that standard online casino Roulette payout structure in place.
Play 20p Roulette on mobile, desktop or tablet here at Bet UK.
How to Play 20p Roulette
Total Bet
You can place inside bets of Streets, Six Lines, Corners, Splits, and Straights from as little as 20p per round, but your total bet will have to be a minimum of £1. Outside bets of Red or Black, Odd or Even, High or Low, Dozens and Columns will require a minimum bet of £1. You can, however, place more on each bet if you wish.
Spin
Once you've determined your bets, you can spin the wheel using the green Bet button in the bottom right of your screen. Any winnings on that spin will be added to your balance.
Learn How To Play Roulette Online
Bet UK 20p Roulette Review
Inspired Gaming's 20p Roulette caters for players who may be new to the game, or looking to try out some recently learned Roulette strategies. With simple gameplay and layout, you are free to dictate the rate at which rounds are played, which is something not afforded in a live casino environment. For similar games with additional and unique features, you may be interested in Roulette X2 from Golden Rock Studios.
Roulette Blogs