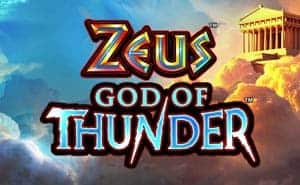 Zeus God of Thunder
Base Game Zeus God of Thunder is a 5x4 reel slot that uses 30 paylines.
Spin Press Spin to place your bet and start the next round.
Bet/Line Use the right (+) and left (-) arrows to change the amount you will place on each payline in the slot.
Help Press Help to bring up the games paytable, showing you the value of each symbol in the game.
Zeus God of Thunder slot bonus features
Wheel Feature Randomly during the game, a glowing background will appear on random symbols. If symbols with glowing backgrounds appear in a row of either 3, 4 or 5, then the Wheel Feature will be triggered. The number of consecutive glowing backgrounds you find on the reels will determine which wheel you spin. Each Wheel either offers a Free Spins Bonus, a Jackpots, a cash award, a Wild Spin or 1 spin of the next biggest wheel.
Jackpot Feature There are 5 different jackpots that can be won through the Wheel Feature. The Mini and Minor Jackpots can only be won on the 3 in a Row Wheel. The Minor and Major Jackpots can only be won on the 4 in a Row Wheel. The Major, Mega and Grand Jackpot can only be won on the 5 in a Row Wheel.
Wild Spin Bonus Triggering the Wild Spin Bonus will place a random number of Wilds onto the reels in a number of random positions. You will then be given one spin of the reels with the added Wilds. The Wheel Feature cannot be triggered again during the Wild Spin Bonus.
Free Spins Bonus All Free Spins are played on an alternate set of reels. The Free Spins will each be played with the same stake that was used to initially trigger the Wheel Feature.