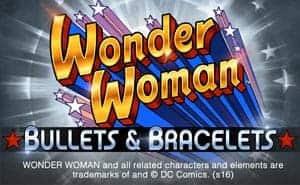 Wonder Woman: Bullets and Bracelets
About Wonder Woman: Bullets and Bracelets
Wonder Woman: Bullets and Bracelets is a 5 reel, 4 row online casino slot game that has 40 paylines in the base game and 100 paylines in the Free Games rounds. This slot comes from the game studio Red7 Mobile, which was acquired by Scientific Games in 2017. Explosive bonus rounds could be triggered, which could help your search for heroic wins!
The U-SPIN Wheel and Knock Out Wilds features add a unique and intriguing element to this slot, as well as the Mystery Symbol feature disguising potential wins on the reels. The highest paying symbols in the game are the Wild and Wonder Woman herself.
How To Play Wonder Woman: Bullets and Bracelets
Total Bet
It's massively important to know how much you are wagering with each spin in Wonder Woman: Bullets and Bracelets. Therefore, use the Plus (+) and Minus (-) buttons to either increase or decrease your stake.
Spin
When you're ready to get the game underway, click the 'Spin' button. This is shown as an arrow in the form of a circle.
Autoplay
Don't worry if you don't fancy clicking the Spin button over and over again, as Autoplay can come to your rescue. You can set Autoplay to play through a specific number of rounds at the current bet amount. You can stop Autoplay at any time by clicking the Autoplay button again.
Wonder Woman: Bullets and Bracelets Game Information
Help is at hand. If you need information on how much each symbol pays and what the different paylines are, click on the '?' symbol. You can also see a detailed explanation on the bonus rounds here too.
Wonder Woman: Bullets and Bracelets Bonus Features
U-SPIN Wheel Feature
Wonder Woman saves the world in her spare time, and she is also generous with those bonus features! If you happen to land 3 scattered Bonus symbols anywhere across reels 2,3 and 4, you will trigger the great U-SPIN Wheel feature.
You'll then be taken to a separate screen, where you will see a wheel ready to be spun. You get one spin of the wheel, which will provide you with either a cash prize, a jackpot or a bonus. If the wheel lands on either a Minor or Major Jackpot, you will receive additional prizes.
The total number of prizes, which includes the initial jackpot, will be the value that you're awarded on the secondary wheel. If you have landed on the Mega Jackpot or a bonus, the secondary wheel will not award anything.
Mystery Symbol Feature
A bit of mystery in your life is always interesting, and the Mystery Symbol Feature provides plenty of intrigue. With this feature, before the reel spin begins you may see that a number of symbols have been replaced by Wild or Mystery symbols.
The Mystery symbols will then be replaced by either; Bullet Cuff WW, Grenade Toss WW, Lasso WW, Running WW, A, K, Q or J which could create wins on the reels. Only the highest winner will be paid per winning combination and all line pays will be multiplied by the bet multiplier.
Knock Out Wilds Free Game Bonus
One of the bonus features in Wonder Woman: Bullets and Bracelets is the Knock Out Wilds. An alternative set of reels is used for this feature, which is different to the standard game reels. At the beginning of this feature, 8 spins and 1x total bet will be awarded. Any Wilds that land on the reel will be locked into position and will remain locked for the remainder of the bonus.
When in Free Games, the reel is 8 rows high. During the first two spins, the bottom 4 rows are active. On spins 3 and 4, the bottom 5 rows will be active. On spin 5, the bottom 6 rows are active. Spin 6, the bottom 7 rows and spins 7 and 8 will eventually have all rows active. Wilds only appear on reels 2, 3 and 4, while the Bonus symbol will not appear here. 100 paylines are available in this game.
Transforming Wilds Free Game Bonus
At the beginning of the Transforming Wilds Free Game Bonus in Wonder Woman: Bullets and Bracelets, 8 spins and 1x total bet are awarded. As with the Knock Out Wilds feature, The Wilds will be crucial here, as they could replace random symbols on the reel. The Wild will then lock into that position and will stay locked there for the rest of the bonus.
The number of positions replaced is as follows:
Spin 1 - Up to 1 position Spin 2 - 1 position Spins 3-5 - 1-2 positions Spin 6 - 1-3 positions Spin 7 - 1-4 positions Spin 8 - 1-5 positions
During spins 4-8, all Wild symbols could be moved to adjacent positions to then form a group of Wilds. After pays are evaluated, all Wilds will return to their original locked positions. The bonus symbol will not appear in the Transforming Wilds Free Games bonus. 100 paylines are available in this game.
Bet UK Review
Bet UK online casino are proud to present the Wonder Woman: Bullets and Bracelets slot game. Due to her appearances in books and films in recent years, the popularity of this character has never been higher. Red7 Mobile and Scientific Games are looking to capitalise on this popularity and they should be successful in doing so, as this is a tremendously designed slot with spectacular graphics and great audio. All this combined makes for an all around positive gaming experience.