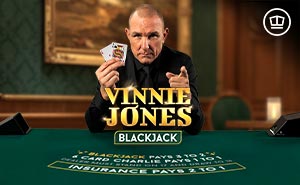 Vinnie Jones Blackjack
About Vinnie Jones Blackjack
Real Dealer Studios have revolutionized the online and live casino industry with the first ever celebrity real dealer release of a Blackjack game, with none other than Vinnie Jones as your dealer. From his youth career in football at Bedmond to the big screens of Hollywood, Vinnie Jones has done it all and is a more than suitable choice for the first ever celebrity real dealer casino game. However, this isn't just a normal roulette game as there are dozens of unique features in the side bets category of the game, whether you're looking for 21+3 or a 6-card charlie, Vinnie has you covered in Vinnie Jones Blackjack.
If you're looking to place bets on Vinnie Jones Blackjack, your minimum bet can be as low a £1 per game with a maximum bet of up to £1,000. The typically-menacing dealer takes on a kinder persona with a politeness that extends from losing hands to big wins. No matter the scenario, you'll receive encouraging commentary from the man himself, even in defeat. Our recommendation is that you read up on your cockney rhyming slang, otherwise you might not grasp some of the commentary.
Vinnie Jones Blackjack Special Features
Created using the latest cinematic RNG technology, the games biggest feature is the fact that it has a celebrity dealer in the form of Vinnie Jones, something that you won't find in any other Blackjack game. His streetwise personality is expertly shown as he reacts to player's decisions and results in typical Vinnie Jones fashion. However, Vinnie Jones isn't the only special feature in this game, find more below.
21+3 Side Bets
21+3 is a side bet that is made during the initial bet and is one of the most popular side bets in all of casino gaming. With this side bet, you will be viewing the two cards in your hand and the dealers up-card. The bet can be won by matching the format of a Flush. Straight, Three of a Kind, Straight Flush or Suited Triples, which can pay out at up to 100:1.
Six Card Charlie:
This distinctive feature can be found in a wide variety of Blackjack games and involves the process of receiving an automatic win after reaching a six-card hand without going bust.
Split Hands:
Another distinctive feature comes in the form of the split hands, if the two cards in your hand hold the same value then you can split them into separate hands and play them individually with double your bet.
Double Down:
Double your bet and double your potential winnings by doubling down on the two initial cards dealt, you will receive an extra card but automatically standing.
Insurance: When the dealers first card is an ace, players will be offered an insurance, where if the dealer lands a blackjack, you'll pay half of your initial bet and pays out 2:1 if you are victorious.
How to Play Vinnie Jones Blackjack
Vinnie Jones Blackjack has a number of options to play. Drag your chips into the betting circle to create your betting stake. You can change your chip by clicking on the stake and if you make a mistake, there is an undo button in the top right corner of your screen. Once you have set your stake and analysed how you would like to play the game, click the deal button in the bottom right corner of the screen to play.
Once you have clicked deal, you will receive two cards and you'll be able to view the dealers upcard, you'll then have a number of options such as hit, stand, split and double down. Select your options accordingly and do your best to reach a higher number than Vinnie Jones, just make sure to avoid going over 21.
Similar Slots to Vinnie Jones Blackjack
If you're looking to play more Vinnie Jones games, why not check out Vinnie Jones Roulette. Or alternatively, if you're looking for more Blackjack games, check out our online blackjack games.