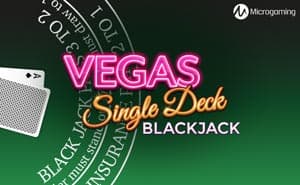 Vegas Single Deck Blackjack
About Vegas Single Deck Blackjack
Microgaming's Vegas Single Deck Blackjack offers you the opportunity to play the popular casino game on your own terms, in order to expand your understanding of the game and expand your Blackjack strategy in a private setting. This doesn't mean that there's any less potential to win big as you play each round, with a wide variety of betting options available.
The fact that this table game is played with just one deck means that the betting tips and stratagems you may be familiar with will be slightly altered. That said, the house edge is lower than in multi-deck online Blackjack, so your chances of winning are theoretically increased.
Play Vegas Single Deck Blackjack on mobile, desktop or tablet here at Bet UK.
How to Play Vegas Single Deck Blackjack
Total Bet
Place your desired wager for the next round by moving your selected chips into the betting box. You can clear your chips if you rethink your intended wager.
Deal
Once you are happy with the total bet amount, you can select the deal option. This will deal two cards to you and two to the dealer.
Hit or Stand
You can choose to 'hit' (draw another card) or 'stand' (keep your current hand). There are various Blackjack strategies available, but essentially you want to get your hand closer to 21 than the dealer.
Information
If you require additional information for Blackjack, you can access the rules and instructions through the ≡ button at the top of the screen.
Bet UK Vegas Single Deck Blackjack Review
Our Blackjack collection continues to grow here at Bet UK, and Microgaming's Vegas Single Deck offering affords players the opportunity to enhance their skills or learn about the core aspects of the classic online casino game in a straightforward and private environment. While similar to their European Blackjack variant, the single deck factor found here can actually improve your chances of winning due to a lower house edge, which makes for an intriguing alternative to other Blackjack games.