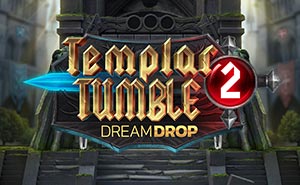 Templar Tumble 2 Dream Drop
About Templar Tumble 2 Dream Drop
Tumble games have become somewhat of an iconic style of gaming associated with one of the biggest names in UK online slots, Relax Gaming's 'tumble' range has taken over the reels of the popular Templar Tumble with Tumbles, Multipliers, Mystery symbols and up to five jackpot prizes, there is plenty to look out for in this casino game.
Templar Tumble 2 Dream Drop Theme
Similar to the original Templar Tumble slot game, this online slot contains the 'Siege' theme, we are dropped into a castle that is currently under attack, the castle's treasure is held by a slot mechanism, which once completed unveils the mysterious treasures of the castle.
Templar Tumble 2 Dream Drop Talking Points
Templar Tumble 2 Dream Drop is a slot game with a plethora of bonuses that can be activated, some of which are simply bonus features others are full bonus rounds that hold the potential to unveil up to 20,000x your stake.
The bonus features that may catch your eye in the base game are the Marked Symbols which can unveil win multipliers and mystery symbols. Symbols with a red frame around them have the potential to reveal a win multiplier, while symbols with a blue frame around them have the potential to be converted into mystery symbols.
The bonus rounds that may catch your eye are the Free Spins and Dream Drop bonuses, the Free Spins game plays out largely as expected with large win multipliers available and retriggering opportunities. Meanwhile, the Dream Drop bonus is a randomly activated Jackpot round, which can lead to five different jackpot wins.