Unfortunately, we are not available in your area!
You are visiting a version of our website that is outside of your region.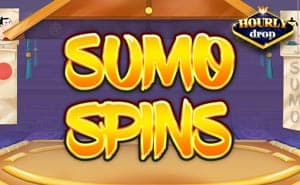 Sumo Spins
SUMO SPINS SLOT BUTTONS
Paytable
To view information such as the winning lines, symbol values and bonus rounds in the Sumo Spins slot, select the paytable.
Bet/Stake per Line
Select the '+' and '-' buttons to increase or decrease the total stake per line in the Sumo Spins slot.
Spin
Select the 'Spin' button to set the reels into motion!
SUMO SPINS SLOT BONUS ROUNDS
Red Rikishi - Reel Nudges
When the Red Rikishi lands on the reels he will stomp his foot to nudge the reels for guaranteed wins in the Sumo Spins slot!
Blue Rikishi - Power Rolls
When Blue Rikishi lands on the reels he will Power Roll across the slot reels, leaving one symbol type behind his path. The Blue Rikishi may roll several times, leading to huge wins!
Green Rikishi - Respins
When Green Rikishi hits the reels he will trigger either one or multiple respins; increasing the chances of huge wins in the Sumo Spins slot.
Sumo Showdown - Free Spins
When two or more Rikishi's appear on the reels in the Sumo Spins slot you will trigger a Sumo Showdown! A number of free games will be randomly determined beforehand. You will pick one Rikishi team and with each spin the two teams will fight. If your Rikishi(s) wins the fight he will turn into a Wild symbol on the reels! When you land three Rikishi's the Red and Blue Rikishi will become one team and fight the Green Rikishi.