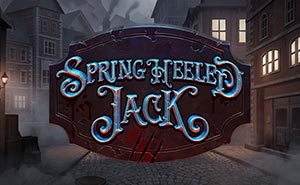 Spring Heeled Jack
Spring Heeled Jack is inspired by the English folk tale from the 19th century, covering a sinister, shadowy figure reminiscent of Jack the Ripper.
The foggy 5x3 reels are set in front of a Victorian street illuminated by gas lamps from either side. It feels as if the reels are hiding something, which if you're lucky could be cash prizes worth over 15,500x.
We're big fans of the unique theme on offer here, as well as the high volatility and large number of paylines.