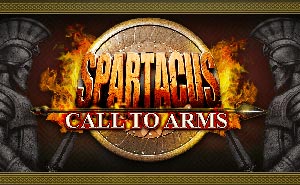 Spartacus Call to Arms
Base Game Spartacus Call To Arms uses 50 paylines on a 5x4 reel slot interface.
Buttons
Paytable Click on the Paytable to see information on the games bonus rounds, as well as viewing the value of each symbol.
Spin Pressing Spin will place your bet and start the next round.
Bet/2 Lines The Bet/2 Lines amount is the value that will be placed on every 2 lines in the game. This can be changed by using the right (+) and left (-) arrows.
Special Features
Special Column Feature When the base game reels are spinning, you will notice that the 8 symbols inside of the columns on the screen will also change. Matching 2 or more of the symbols inside of the columns with winning symbols on the main set of reels will award you a multiplier. Find 8 matching symbols in the columns to win a 250x multiplier for all wins in that spin. If a WILD symbol is found on the columns reels, then it will transfer onto a random position on the main set of reels. The WILD symbol will not transfer onto a position with a BONUS or WILD symbol already on it.
Free Spins Bonus Find 3 Bonus symbols on reels 1, 3 and 5 to start the Free Spins Bonus. The stake that was used to initially trigger the Free Spins Bonus will also be used during all of your Free Spins. Initially you will be given 10 Free Spins, however more can be won by finding an extra 3 Bonus symbols on the reels. During your Spins, there will be an increased amount of Wilds placed onto the reels. The Special Column Featur will also be enhanced, doubling all multipliers awarded by matching symbols.