Unfortunately, we are not available in your area!
You are visiting a version of our website that is outside of your region.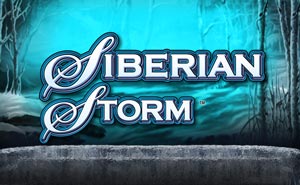 Siberian Storm
How to Play Siberian Storm
Want to take on the storm? If you bet your own coin amount, this value multiplies the MultiWay Xtra awards won. Easily control the coin value by using the arrows by either going left or right. Values will be adjusted in preset popular amounts. 50 coins will get you an incredible 720 different ways to win big.
Game Rules
The unique MultiWay Xtra Feature gives you over 700 ways to win extra awards every time you spin. Just match symbols in the columns, minimum of three going left to right. Awards are multiplied when more than one symbol in the column is matched. With the exception of Bonus and Scatter symbols, a lucky Wild symbol can substitute for any others. Payouts are for highest paying MultiWay Xtra award for each symbol. A Bonus symbol in any position appearing on five side by side columns will get you a Free Spin Bonus. This means you get a prize plus eight free spins. Remember, the Free Spins Bonuses are the best because the reels are richer. There are more stacks of wilds than the standard reels. Try your luck at getting the Bonus Retrigger symbol. This symbol must appear in any position across five reels. Multiple Bonus Retrigger wins can happen, up to 240 free spins per bonus. Your actual coin value will be matched with the reel spin for the Bonus. Choose the graphics quality to match your preferred play experience. For example, in BEST mode, graphics are tops but the game speed may be slowed. LOW mode will offer less quality graphics in exchange for awesome animation and game response time.
Siberian Storm Player Tips
Avoid Malfunction. Play fair and follow rules. All pays and plays will be void. The same symbol across adjacent columns yields MultiWay Xtra awards. If the same symbol appears in the same column too, then awards are multiplied. Awards are paid left to right and right to left Awards will appear as currency and the Controls Bar on the bottom screen shows the balance and possible payout of pending or last bet.