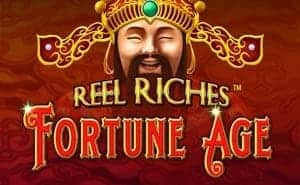 Reel riches Fortune Age
About Reel Riches Fortune Age Slot
Reel Riches Fortune Age is an UK casino game that features five reels, four rows and 40 paylines brought to you by SG. There is a gold trim surrounding the reels at all times to give it a sleek aesthetic look. The backing soundtrack sets the mood too, adding to the overall gaming experience.
In Reel Riches Fortune Age, the highest value symbols are the Wild, Coin, Man and Pot. Mid-level value symbols are Hat, Bottle, Vase and Ace, while King, Queen, Jack and 10 form the lower value symbols. If a Wild is found on the reels, it can substitute for any other symbol, and can be found on the last reel.
The two bonus features in the Reel Riches Fortune Age online casino slot are the Wheel Bonus and Free Spins bonus. This slot is available to be accessed on mobile, tablet and desktop devices.
How to Play Reel Riches Fortune Age Slot
Total Bet
In order to edit your Total Bet amount in Reel Riches Fortune Age slot, you can use the + and - buttons on each side of the Total Bet panel to either increase or decrease how much you are set to wager on the next spin.
Spin
When you have decided on your ideal Total Bet amount in Reel Riches Fortune Age slot, press the Spin button to set the reels into motion and get the game underway.
Information
If you ever need any information or assistance in the Reel Riches Fortune Age slot game, click on the '?' symbol to bring up the full paytable, including all 40 paylines and how much each symbol is worth in a variety of combinations.
Reel Riches Fortune Age Bonus Features
Wheel Bonus
In Reel Riches Fortune Age, the Wheel Bonus can be triggered when one of the coloured coins in the game becomes active and appears on the reels. This occurring will trigger one spin on the corresponding wheel. For each coin on the reel, the active window will increase in size. How many coins there are on the triggering reel will determine how many wedges on the wheel you will receive. The wedges on the wheel can offer different prizes, such as cash prizes, jackpot prizes or coin upgrades. If you receive a coin upgrade, you'll get one spin of the wheel that's associated with the coin shown on that particular wedge.
Before the wheel gets going, some positions on the reels are replaced randomly with any cash prize available for that wheel. You will not be able to access the Wheel Bonus during Free Spins.
Free Spins Bonus
If you land 3 Scattered Green Dragon Bonus symbols in Reel Riches Fortune Ages, you will trigger the Free Spins bonus. After the Green Dragon symbols are landed, a multiplier of the total bet may be awarded.
5 Green Dragon symbols = 50x Total Bet
4 Green Dragon symbols = 5x Total Bet
3 Green Dragon symbols = 2x Total Bet
The bonus round gets started with a picking feature, where you will need to find three matching jewels to find out how many free spins you'll be credited with, as well as a multiplier amount.
Bet UK Reel Riches Fortune Age Slot Review
This is certainly not the first top online casino slot game to feature a far-eastern theme as there are many great ones here at Bet UK already, but Reel Riches Fortune Age offers plenty to make it different and unique. Both the Free Spins and the Wheel Bonus features could help to add wins, with Free Spins and multipliers available. If you would like to check out some other top slots from the same gaming provider, you can head to Rainbow Riches or Rainbow Riches Pick N Mix.