Unfortunately, we are not available in your area!
You are visiting a version of our website that is outside of your region.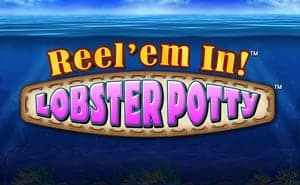 Reel' em In Lobster Potty
The Lobster Potty online slot is played on a 5 reel slot with 20 fantastic paylines. This slot features 4 superb bonus rounds including the 'Reel em In', 'Lobster Pot', 'Big Bite' and 'Mega Bite' bonuses.
Lobster Potty Slot Buttons
Paytable
To view the Lobster Potty slot paytable you can select the 'Help' button displayed as a graph accompanied with a question mark.
Stake per Line
You can click the '+' or '-' buttons within a clamshell to increase or decrease the stake per line.
Big Bet Game
You can enter the Lobster Potty Big Bet game by selecting the 'BB' button. The details of this bonus game are described below.
Autoplay
Once you have selected the chosen stake per line in this slot you can then decide if you want to play a predetermined amount of spins. This feature will automatically play a chosen amount of spins without you even having to click - so you can sit back and watch your prize fish being caught while watching your money raise well above sea level!
Spin
Once you have selected your stake per line on this slot, click on the spin button (displayed in a clamshell) to place your bet and throw the line!
Game Panel (Mobile)
When playing on any mobile device, the Big Bet game, stake selection and autoplay buttons will all be available through the Lobster Potty game panel. This is accessible through the chevron button (≪). The Stake per Line, win, balance and total bet metrics will all be displayed on the bottom of this game panel.
Lobster Potty Slot Bonus Rounds
Reel Em In Bonus
Reel those sweet wins home in the Lobster Potty 'Reel Em In' Bonus feature! This feature is triggered by achieving 5 sandy backgrounds on all 5 reels within the slot. Once triggered, all reels become active, containing huge cash prizes, blanks and Boot symbols which are used to 'close' the reel. The Bonus Round will continue until all reels have been closed via the Boot symbols, in which subsequently you will be awarded your overall winnings from that specific round.
Lobster Pots Bonus
The 'Lobster Pot' Bonus feature is triggered by landing 5 sandy backgrounds on all 5 reels within the slot. The Lobster Pots Bonus entails 3 Pots: Gold, Silver and Bronze. During this bonus the only reel in the slot which will spin will be the centre reel, eventually landing on a specific lobster. The value connected to that particular Pot will then be awarded to you.
Big Bet Game
The Lobster Potty 'Big Bet' Game consists of 5 linked spins on the reels. All of the winnings achieved are added consecutively and the overall win is paid out at the end of the last spin.
Big Bite Bonus
Watch out, SHARK! In this 'Big Bite' Bonus Round, a shark will will jump onto a reel on any random spin and take a Bite out of one of the symbols; turning into a Wild x2. This means that although the symbol is Wild, it also doubles any wins in which that spin has achieved.
Mega Bite Bonus
When the 'Mega Bite' bonus is triggered there is a variety of magnificent multipliers up for grabs! In addition to the 'Wild x2' multiplier, there's also a chance to win a x3, x4, x5 or even x10 - how's that for bait?!