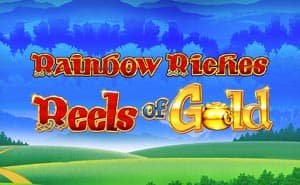 Rainbow Riches: Reels of Gold
About Rainbow Riches Reels Of Gold Online Slot Game
Rainbow Riches: Reels Of Gold is an online casino game played using 2 reels with 100 paylines. One reel is a traditional 5x4 reel and the other is a colossal 5x12 reel. It's a spin-off to the original Rainbow Riches, with some unique features added.
Play The Original Rainbow Riches
Rainbow Riches Reels Of Gold Online Slot Game Buttons
Stake
The Stake window shows you how much is being placed on the next spin. To change your stake, press the arrow above the value and you'll be able to bet how you choose.
Stake/Line
The arrow above your stake determines how much you're staking for every 2 lines on each spin. To change this, just use the up (+) and down (-) arrows to select the stake you want.
Total Win
After each successful spin, the total amount that you have won will be displayed in the Total Win window.
Balance
If you fancy keeping an eye on how much you've got left to play with, then the Balance window keeps a live counter of how much is left in your account.
Left Arrow
The Left Arrow on the right hand side of the screen will open up a secondary menu. Here you'll be given even more options to play with.
I Button
The I Button allows you to view all the information you'll need about the game. Get extra information on bonus rounds and take a look at the game's paytable so you know which symbols to look out for.
Spin
When all your settings are right and you've decided how much you'd like to stake, press Spin and the next round will begin.
Rainbow Riches Reels Of Gold Online Slot Game Features
Wilds
The classic Rainbow Riches symbol that we all know is the Wild symbol in Rainbow Riches: Reels Of Gold. The Wild will substitute for all of the games symbols, apart from the Bonus Balloon symbol. If one of the reels on the smaller set of reels is filled with the Rainbow Riches symbols, then it will be expanded to the corresponding reel on the Colossal Reels. Each symbol will then turn into Wilds, covering the whole of the reel.
Bonus Wilds
A Fairy can appear randomly on the screen during any spin and has the chance to award you with a number of different bonuses.
Super Wild Stacks
The Fairy will appear, casting a spell on the reels with her wand. At least one reel will then be covered with Rainbow Riches symbols, making the whole reel turn into Wilds. The Wilds will then all transfer over to the matching reel on the Colossal set.
Magic Wilds
This time, the Fairy will strike both sets of reels with her magic wand. A large block of Wilds will then appear on each set of reels and will start to slide up and down. When they stop, they will lock into place and try to complete winning lines.
Wild Burst
When the Fairy appears, she will make butterflies fly around the reels, placing themselves on random positions on the reels. Each symbol that they land on will then be turned into a Wild for the next spin.
Magic Symbols Bonus
The Magic Symbols Bonus will be randomly triggered during any spin. The Fairy will appear and cast another spell on the reels. The spell will turn all heart, diamond, club and spade symbols into the Wishing Well symbol. When the reels have stopped spinning, each symbol will then be transformed into one of these symbols: a mushroom, a harp, a horse shoe, a shamrock or a Wild symbol.
Reel Win Multipliers
The Fairy can also give you a Random multiplier when she appears. She will strike the reels to give you a x2, x3 or x5 multiplier, which will be applied to the win that you get on your next spin.
Near Miss Free Spins
If only 2 Free Spins Bonus symbols land on the reels, then the Fairy may come and strike the reels, giving you an extra 2 Bonus Symbols which will trigger the Free Spins Bonus.
Near Miss Win
If you are just a couple of symbols away from a win, then the Fairy might come and grant your wishes and move some of the reels around to complete your winning lines.
Free Spins
The Free Spins round will be triggered when between 3-6 Bonus Balloon symbols appear anywhere on the reels. A number of balloons will appear and you'll have to choose which balloons to pop to give you your Free Spins. The number of Spins and the value of your multipliers will be decided by how many Bonus Balloon symbols are on the reels. During the Base Game, you'll get:
A 20x multiplier and 4 picks from 6 balloons for finding 6 symbols
A 20x multiplier and 3 picks from 5 balloons for finding 5 symbols
A 5x multiplier and 2 picks from 4 balloons for finding 4 symbols
A 2x multiplier and 1 pick from 3 balloons for finding 3 symbols
During the Big Bet feature, the Bonus will be enhance and you'll get:
A 2000x multiplier and 4 picks from 6 balloons for finding 6 symbols
A 2000x multiplier and 3 picks from 5 balloons for finding 5 symbols
A 500x multiplier and 2 picks from 4 baloons for finding 4 symbols
A 200x multiplier and 1 pick from 3 balloons for finding 3 symbols
When the amount of Free Spins has been decided, you'll get the chance to win even more with the Free Spins Gamble. If you fancy a gamble, you'll be shown 5 different dials, which will each represent a number of Free Spins. The dial will have a green section and a red section, the sizes of which will change depending on how many spins you are trying to get. If you want to gamble, press the dial you wish to spin and the arrow will start spinning. If it lands in the green, you've won your gamble! If it lands in the red then you've lost and you won't be getting any Free Spins.
The Free Spins will be played on the same reels as the Base Game. Find an extra 3 Bonus Symbols and you'll be rewarded with even more Free spins. The Fairy will be on the screen during all of your Spins and could use her wand to give you a Bonus at any time.
Big Bet Game
The Big Bet feature allows you to place a large bet and play with multiple spins of the reels. The Big Bet feature allows you to stake between £10 - £25 for 5 spins of the reels. During any Big Bet game, any Rainbow Riches symbol that lands on the 5x4 reels will be transferred to the Colossal Reels. During the £15 Big Bet game, find 7 Bonus Balloon symbols and you'll be awarded with 10-50 Free Spins. The £20 Big Bet Game gives you the chance to win 15-50 Free Spins by finding 6 Bonus Balloon symbols. When playing with the £25 Big Bet game, 5 Bonus symbols will give you 25-50 Free Spins to play with.
Rainbow Riches Reels of Gold FAQs
What is Rainbow Riches Reels of Gold?
Rainbow Riches Reels of Gold is a popular online slot developed by Barcrest, who are a popular provider of slot games. Reels of Gold is one of the later games in the popular Rainbow Riches series and features an Irish theme with vibrant graphics and gameplay.
How many reels and paylines does Rainbow Riches Reels of Gold have?
The Rainbow Riches Reels of Gold slot has a unique reel setup. It consists of two sets of reels: a 5x4 colossal reel set on the left and a 5x12 colossal reel set on the right. In total, the game has 100 paylines.
Can I play Rainbow Riches Reels of Gold on mobile devices?
Yes, Rainbow Riches Reels of Gold is designed to be compatible with various mobile devices. You can play by either downloading the BetUK app or via checking out the BetUK website on desktop, mobile or tablet devices.
What is the Reels of Gold expansion to Rainbow Riches?
The Drops of Gold bonus is a special feature in Rainbow Riches Drops of Gold that increases the winning potential of a game. During the base game, a rainbow-colored pot symbol with "Drops of Gold" written on it can appear on the fifth reel. When this symbol drops, a cascade of gold and silver pots will appear on the reels during into either wild symbols or high-paying symbols.
Bet UK Rainbow Riches Reels of Gold Review
The Rainbow Riches franchise has proven popular the world over, and at Bet UK we're delighted to have every single installment in our online casino. You can explore each individual game in our handy guide to Rainbow Riches, with several of the other releases featuring elements found here in Reels of Gold. For something completely different, why not visit our live casino or online betting sections.