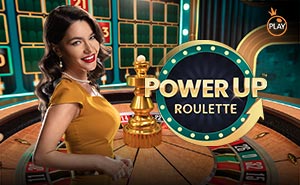 PowerUP Roulette
About PowerUp Roulette
Configured around the classic game of European Roulette, PowerUp Roulette is one of the Roulette games with the highest payout potential alongside Lightning Roulette. However, the main difference between this version of Roulette and the classic is that the maximum win potential of this game is up to 8,000x your stake.
How to Play PowerUp Roulette
This game takes up a very similar style to the vast majority of Roulette games, if you're looking for how to play Roulette as a whole, check out the BetUK How to Play Roulette Guide.
For this game specifically, there are 37 pockets on the Roulette wheel, the numbers 1-36 and the zero segment.
You'll have a specific betting window, in-which 18 selects will be allocated to allow you to select your bet before the live dealer spins the wheel and the betting will close. As the Roulette wheel spins, segments will become highlighted and form PowerUp numbers, if the ball lands in one of these segments, you'll receive improved payouts with the multiplier lines, the more lines that you find on the wheel, the higher your multiplier will be once revealed.
Special Features In PowerUp Roulette
The main feature in PowerUp Roulette is the PowerUp Numbers feature, in-which, three to five pockets on every spin will be randomly selected to become the PowerUp numbers, each pocket will provide different multiplier values if the ball lands in these segments during the game.
Similar Casino Games to PowerUp Roulette
The vast majority of Roulette versions are similar to PowerUp Roulette, with a slight twist that they won't include the PoweredUp numbers. The only version that does contain a similar feature is the Lightning Roulette version of the game.