Unfortunately, we are not available in your area!
You are visiting a version of our website that is outside of your region.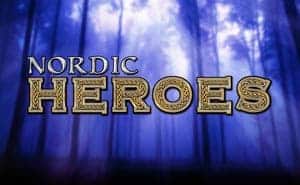 Nordic Heroes
Nordic Heroes is a 5 reel, 30 payline slot game with betting fixed at 30 coins.
BUTTONS
LINE BET
Displays the current bet per line in currency. Press the left arrow (-) to decrease the line bet. Press the right arrow (+) to increase the line bet.
LINES
Press the left arrow (-) to decrease the number of paylines played. Press the right arrow (+) to increase the number of paylines played.
SPIN
Press to spin the reels and submit the bet.
BONS ROUNDS
MYSTERY MULTIPLIER FEATURE
On any spin that cannoy trigger a bonus, a multiplier reel appears and spins to reveal a multiplier from 2x up to 30x to multiply the entire win. Higher multipliers can be unlocked when reaching higher levels.
LEVEL UP PLUS
Players can choose from 2 characters: Thora or Ragnar.
Ragnar can be unlocked at level 3.
Unique weapons available for each character.
Players have the choice of 2 realms:
Sea Of Glory is unlocked at level 5.
Unique monsters, reel symbols, backgrounds, and free spins features are available for each realm.
Defeat monsters in the Battle Bonus to level up and earn experience points. Leveling up unlocks a new character, a new realm, new weapons, and higher Mystery Multipliers. Your level and experience points are saved for your next game.
BATTLE BONUS
Triggered by getting three Bonus scatter symbols anywhere on reels 1, 3, and 5. Play free spins as long as your character has health. After each free spin, battle reels spin for the character and current monster. Defeat all three monsters and earn 1, 2, 5, or 10 Victory Spins.
If the Forest of Fortune realm was chosen, there is a Roaming Wild symbol in the Battle Bonus
2x Roaming Wild on the second monster battle
4x Roaming Wild on the third monster battle
If the Sea of Glory realm was chosen, there is a random Wild Reel on each spin
Reel 1, 2, or 3 are Wild in the second monster battle.
Reel 1, 2, 3, or 4, and reel 5 are Wild in the third monster battle