Unfortunately, we are not available in your area!
You are visiting a version of our website that is outside of your region.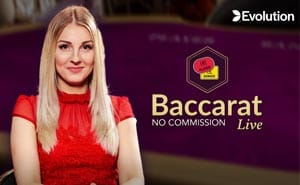 No Commission Baccarat
About Live No Commission Baccarat
The standard version of Live Baccarat is a fan favourite and Evolution Gaming have put a twist on things with this no commission version. Live No Commission Baccarat can provide better payouts, simply because players do not need to pay a 5% commission if a winning bet is placed on the Banker's hand. Instead of this, you will be given a 1:1 payout for a Banker win or a Player win. If your bet was on a Tie, you will be paid either 8:1 or 9:1, which will be decided by the operator.
If the Banker achieves a 6 point hand, a Banker bet will pay 0.5:1 or half of your main bet (Player, Banker or Tie).
How to Play Live No Commission Baccarat
Learn How To Play Baccarat Online
Before a round of Live No Commission Baccarat gets underway, bets are placed first before two cards are dealt to both the Player and the Banker. A decision will need to be made on which hand you will bet on: the Banker's or the Player's. If you think the outcome will be a Tie, then that is also an option. The aim of Live No Commission Baccarat is to place your bet on the hand that scores the closest to nine when added together.
In terms of the value of each card, the following applies:
King, Queen and Jack cards are all worth zero points. Ace is worth one point. All other cards are worth their face value.
If the two cards in a hand equal ten or more, the second digit will the value of that particular hand, with the first digit being removed. As an example, if the hand has an eight and a four, the hand would be worth 2 points (8+4=12).
In the event of a natural win, that particular round of Live No Commission Baccarat will end and bets will be paid out. If you're not familiar with the concept of a natural win, it is a hand that totals eight or nine (consisting only of the first two cards dealt). If neither achieve a natural win, a third card may be dealt to both the Player and the Banker. If a hand scores between zero and five, a third card will be dealt automatically.
Live No Commission Baccarat Side Bets
Super 6 Side Bet If you are looking for a little bit of insurance, the Super Six Side Bet could be the one for you. During Live No Commission Baccarat, if the Banker has a 6 point hand, you'll receive a 15:1 payout! These bets need to be placed before the game gets underway.
Other Side Bets The Super 6 Side Bet is not the only side bet available here in Live No Commission Baccarat. Other examples are; Player Pair, Banker Pair, Perfect Pairs, Player Bonus and Banker Bonus. These side bets are useful because they can pay out up to 200:1! If you want to access these side bets, head to game settings.
Bet UK's No Commission Baccarat
Bet UK online casino is the perfect place to find excellent quality live casino games. The game developers Evolution Gaming really lead the way in this field and Live No Commission Baccarat is an exceptional offering to add to an already stellar list of titles. The chance of bigger payouts simply due to the fact that no commission needs to be paid means that this live casino game sets the bar.