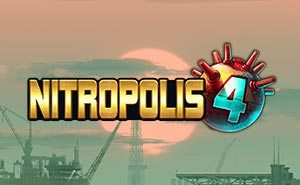 Nitropolis 4
About Nitropolis 4 Slot
Chinese mythology includes some truly breathtaking stories. However, one that stands out amongst them all in regards to fear is the Nian. The Nian is a beast who was believed to destroy the crops of towns and feast on villagers but would only awaken on Chinese new year, they discovered that the beast feared loud sounds and they vowed to keep the tradition going every year, leading us to this slot. Blue Guru have a tendency to incorporate unique themes into their slots and it comes as no surprise that they have continued that tradition here. This chinese-themed slot has 243 paylines and is played on reels that are 5x3 in size.
Nitropolis 4 Special Features
Battle of Nian Free Spins Bonus
The main bonus round in the Nitropolis 4 slot game is this Free Spins bonus round in-which, the primary feature is an upgrade feature. Firstly, land three scatter symbols on the reels to activate the bonus, this will give you 15 Free Spins. Following this, each position occupied by scatter symbols will become firework symbols which will upgrade if subsequent scatters land in those positions. If a position is levelled up, players will see improved wins on the reels.
Similar Slots to Nitropolis 4