Unfortunately, we are not available in your area!
You are visiting a version of our website that is outside of your region.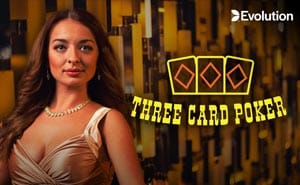 Live Three Card Poker
Play Live Three Card Poker Online
Three Card Poker is often described as a cross between Five Card Stud and Baccarat. It's not really, but the reason people make this comparison is the fact that the game is similar to Baccarat in some ways. First of all, Three Card Poker players do not compete against anyone other than the dealer. Second, the pace of the game is exceptionally fast. Finally, the name of the game gives away the fact that it is played with just three cards each.
Playing Live Three Card Poker here means experiencing one of the finest live Poker experiences online. Being that our game is live and in real-time, you are playing a form of Three Card Poker identical to what you would play in a land-based casino. And thanks to live video and audio, you'll hear all the sights and sounds of the typical casino environment.
Live video gives you a direct view of both the dealer and the table. You will see the cards as they are dealt. You will have the opportunity to interact with your dealer using the built-in chat tool. The only thing different about the experience is that you're playing at home rather than on a physical casino floor. Every other element of Three Card Poker remains intact.
One of the things people most appreciate about this game is its fast pace. So be prepared to keep up. Your first round of bets is followed by the deal of the cards, a second round of betting, and the determination of winner and loser. There is not much more to it than that. As such, you will have to be on your toes if you want your Poker skills to help you compete against the luck of the draw.
How to Play Live Three Card Poker
The goal of Three Card Poker is to get a hand that ranks higher than the dealer's hand. Each hand can produce only one of two outcomes: one winner and one loser, or a tie. That's it. You wager based on how strong you think your chances are for a win. In terms of game flow, Three Card Poker follows a set course of action.
To begin, you ante up to get in on the next hand. You also have an opportunity to place one of two side bets at this time. Once you've completed all your wagers, the dealer will deal three cards to you and another three for the house. You then decide whether you want to fold or play. If you decide to play, you make another wager equal to the amount of the ante.
At this point, the dealer's cards are revealed and the hand is evaluated. The dealer must have a least a queen high in order to qualify. If not, no action is taken on your play bet. You do win a 1:1 payout on the ante, though. Provided the dealer does qualify, the higher-ranked hand wins.
Side bets are also evaluated once the dealer's cards are revealed. They are paid regardless of the outcome of the original hand. In other words, neither loss nor tie have any effect on winning side bets. They pay regardless.
Learn How To Play Poker Online
Live Three Card Poker Bonus Features
The extra features in Live Three Card Poker are essentially the two side bets. The first of those two bets is the Pair Plus Bonus Bet. This is a fairly simple side bet that assumes you will form a pair from two of the three cards you are dealt. Payouts are determined by the value of the pair. You could earn a payout of up to 100:1 should you win this bet.
The second side bet is known as the Six Card Bonus Bet. This side bet combines your three cards with those of the dealer, with the objective of forming a five-card hand of three of a kind or better. Just like the Pair Plus Bonus Bet, this side bet pays out according to the value of the five-card hand you form. Top prize is a 1,000:1 payout.
If you like fast-paced casino games built on the basic premise of Poker, Live Three Card Poker is the game for you. We invite you to play here at our casino whenever you get the itch. You just need an account, an internet connection, and either a mobile device or computer.