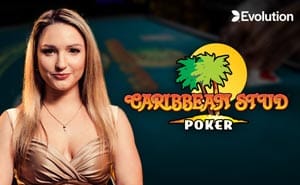 Live Caribbean Stud Poker
How To Play Live Caribbean Stud
Caribbean Stud is a derivative of five card stud with debatable origins. Lots of people lay claim to inventing the game, but it was a casino in Aruba that established Caribbean Stud as a viable table game worth playing. It is from that casino's licencing of the game that we get the name 'Caribbean Stud'.
Our live Caribbean Stud title gives you access to a game played in real time, hosted by a dealer in a remote location. All the action on your screen takes place as you are seeing it. The dealer is dealing the cards live, you are betting in real time, etc. Everything takes place over the internet via live video and a bit of video gaming technology that allows you to interact with the studio on the other side of the camera.
You can play live Caribbean Stud on your mobile device, desktop PC, or laptop. Make no mistake, this is a premium gaming experience regardless of the device you choose. Best of all, you are not limited to the hours of operation posted by a local land-based casino. You can play whenever you have the time. Play on the way to work in the morning or during your lunch break. Play while on holiday, on the weekend, or while your significant other is doing a bit of shopping.
No matter when you play, you will enjoy an interactive experience between you and your dealer. And while there may be other players at the table, you will not be competing against them. Caribbean Stud is played exclusively against the house. It is your poker skills against the luck of the draw.
Live Caribbean Stud Rules
Caribbean Stud is a fast-paced game compared to five card stud or Texas Hold 'em. This is because there is only a single deal of the cards. You ante up to get in, then the dealer deals five cards for you and five for the house. All your cards are dealt face up. Four of the dealer's cards are face down; only the fifth card is face up.
Once all the cards are dealt you have the option to raise or fold. Only after you make your decision is the dealer's full hand revealed. To that end, here is something you need to know: the house must have either a King and Ace or a hand better than the player in order to qualify. Otherwise, you win the hand. This is an important fact to know inasmuch as it might influence how frequently you fold when playing live Caribbean Stud.
Our live Caribbean Stud game offers the standard 5+1 bet found at land-based casinos. This bet says you will be able to combine your five cards with the dealer's face-up card to form three of a kind or better. You have to make this side bet before the cards are dealt, though.
One of the advantages of the 5+1 bet is that it is not affected by the eventual outcome of the hand. In other words, the house could wind up with a better hand than you and it wouldn't affect your ability to hit the side bet. Even if you lost the hand, you still win the side bet by scoring a three of a kind or better.
Live Caribbean Stud: Extra Features and Bonus Play
Are you a big fan of casino games with extra features? Then you are going to love the Progressive Jackpot feature built into live Caribbean Stud. If you are familiar with progressive jackpots from online slots, you probably have a general idea of how this works. A progressive jackpot takes its name from the fact that the Jackpot continues to grow until someone wins it.
In live Caribbean Stud, the progressive jackpot is based on an optional side bet placed before the cards are dealt. Every side bet placed adds to the jackpot's total. And there is no cap. To win, you have to score a flush or higher with your five-card hand. A royal flush takes the entire jackpot. The lesser hands of straight flush, four of a kind, full house, and flush take smaller amounts.
Live Caribbean Stud is a fast-paced game you are probably going to love. It is a refreshing change from other poker games that don't move along so quickly. We hope you'll try it.