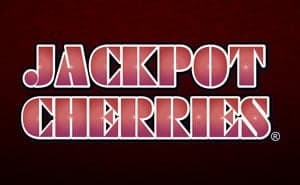 Jackpot Cherries
How to play
Jackpot Cherries is a three reel, 1 win line, simple play arcade style slot with holds and nudges. A win is awarded for a line of cherries (5x the bet) or a line of Jackpot symbols (25x the bet)
To play the game, select the desired bet amount using the arrow buttons and press Start to spin the reels.
Nudges
3 nudges may be offered, at random, at the end of any non-winning spin. Nudging the reels can be done manually or using the auto nudge function which would find the best available win available. If the best win is not found manually, the auto nudge will kick in anyway and re-nudge the reels to the win.
Super Spin Feature
The super spin feature may be offered, at random, after a losing nudge. When offered, the hold buttons will flash and the reels will automatically spin to a win.
Holds
A hold, or series of holds, may be offered, at random, after any win. When offered, the reels are held automatically and the win is added to the initial win. The hold chance is awarded in the same game as the original win, and as such, no credit is taken. The maximum number of possible holds is nine. If this is reached, no more holds will be offered.