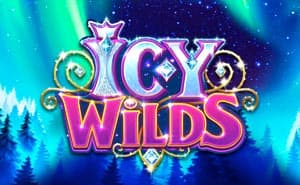 Icy Wilds
Game Information for Icy Wilds Online Slot
Total Bet
Displays the current bet value shown in currency. Press the button to reveal the Bet Menu and choose your bet amount from the values displayed.
Lines
Displays the current number of paylines selected. Betting is fixed at 50 paylines.
Spin
Press Spin to submit the bet and spin the reels.
Auto Spin
Auto spin plays the game automatically for a given number of spins at the current line bet and number of paylines selected. Choose how many spins to play at the current bet settings. Auto spin plays the specified number of spins until the stop button is pressed, a bonus is triggered or the balance is insufficient to spin again.
Bonus Rounds
Synchronised Reels Feature
Each reel in the Icy Wilds online slot game includes large stacks of the same symbol. Before each spin, a reel set with one of the stacked symbols randomly selected. Any symbol may appear in any stack except the Bonus scatter symbol, which is already stacked on each reel. The same symbol may appear in large stacks on multiple reels on the same spin. When the same symbol appears in the stacks on adjacent reels, it increases your potential for massive wins.
Wilds Feature
A full stack of wintry riches such as, crowns, rings, hearts, snow leopards, snow owls or ermines triggers the Wilds feature with this slot game. These will turn the entire reel wild for the next spin with the same line bet. In the Free Spins Bonus, the Wilds feature is even more valuable.
Free Spins Bonus
The Free Spins Bonus on the Icy Wilds slot is triggered by three or more scattered Bonus symbols appearing anywhere on three or more different reels. Triggering the Free Spins Bonus awards 10 - 45 free spins, depending on the number of Bonus symbols that appear in the said combination. The Free Spins Bonus is retriggered when three or more Bonus symbols appear anywhere on three or more different reels. This online slot allows you to retrigger the bonus multiple times, up to a maximum of 250 free spins per bonus. Icy Wilds online slot allows free spins to be played at the same line bet and the same number of paylines as the triggering game.