Unfortunately, we are not available in your area!
You are visiting a version of our website that is outside of your region.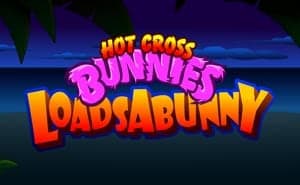 Hot Cross Bunnies: Loadsabunny
About Hot Cross Bunnies: Loadsabunny Slot
Loadsabunny is the sequel to Realistic Games' original Hot Cross Bunnies slot game, but it moves to greater heights with even more bonus rounds and winning potential. The Free Spins round is what Bet UK players will want to keep an eye out for, whether they're on mobile, desktop, or tablet devices.
How to Play Hot Cross Bunnies: Loadsabunny Slot
Total Bet
Use the Bet Value to select the total Bet Value.
Play
Pressing the Start Button will spin the reels for one game round.
Information
This will show various bits of information at different points throughout the game
Bet
This will display the total bet per game round.
Win
This will display the total win line payouts.
Paid
This shows the player the total paid for a complete bet.
Hot Cross Bunnies: Loadsabunny Slot Special Features
Wild Symbols
The Wild symbol substitutes for all symbols except the Bunny Scatter symbol.
Bunny Money Free Spins
The Free Spins feature will be awarded when 3 or 4 scatter symbols appear in any positions on the reels. During the Free Spins, any symbol that lands on the win line will light the corresponding symbol on the award table. Light 3,4, or 5 consecutive symbols to win the displayed prize! Light 3,4, or 5 consecutive Bunnies, and you will win Free Spins, or even win the Jackpot! The feature remains until the maximum payout is reached or there are no Free Spins remaining.
Bet UK Review
We love to bring a wide variety of slots to our online casino here at Bet UK, and Loadsabunny brings a heck of a lot to the table. If you thought the original Hot Cross Bunnies was a magnificent slot, then Loadsabunny will certainly not disappoint, at it boosts the Free Spins bonus found in the original to add even more value. For something different, take a look at our betting markets.