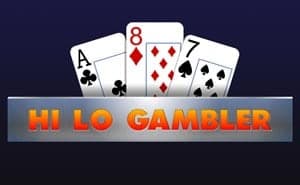 Hi Lo Gambler
Hi Lo Gambler is based on the concept of trying to guess what card will come up next from the dealer. The interface consists of 11 different panels and a deck of cards stretched across a separate panel at the bottom of the screen.
The game starts with one card already drawn and the 'Stake' panel active. Click the 'Stake' button to increase your wager incrementally. Clicking it once will also activate a second button that you can use to reduce your stake by the same increments. Once you are satisfied with your wager, it is time to determine what card will come up next. You can choose one of nine different wagers using the active panels:
A higher, lower, or equal (snap) card An Ace A King or Ace A picture card A black or red card A numbered card
After making your choice, the cards will be shuffled and one will be dealt. You will either win or lose based on your choice as compared to the dealt card.
After the Deal
If you win the hand, the amount you wagered will be multiplied by the value of the card choice you made to determine how much you won. That amount will be added to your current stake. If you want to play the next hand using the increased stake, just make another card choice and wait for the game to deal a new card.
If you do not want to wager all of it, you can click either 'Take All' or 'Save Some'. The former option removes the entire stake and adds it to your balance while the latter allows you to take just a portion, leaving the rest for your next hand.