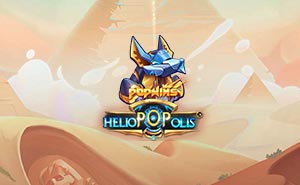 HelioPOPolis
HelioPOPolis Stats
| | |
| --- | --- |
| Provider | AvatarUX |
| Reels | 5x3 |
| Lines | Between 486 and 65,336 |
| Theme | Egyptian |
| Bonus | Free Spins |
| Max Win | 20,000x |
| Volatility | High |
| Symbols | 13 |
HelioPOPolis Top Features
Looking to play the HelioPOPolis slot game? Here are three features that we believe are worth looking out for when playing this AvatarUX slot.
1. Bonus Feature: Free Spins
A large number of games have a Free Spins bonus round, so it takes a lot of effort to make a Free Spins bonus stand out amongst our wide range of slot games. The opportunities available in HelioPOPolis are enough to make this bonus stand out in a crowd with the option of Synced Reels or Extended Win Symbols to choose from at the start of the round - players are given control of the bonus from the start. However, that isn't all the bonus offers, as alongside wilds and mystery symbols, there are multipliers and expanding reels which bring the best features of megaways slots to our screens in a standard game.
2. PopWins: A fresh approach
PopWins could be referred to as AvatarUX's golden goose, it is a feature that is sought after when a new release is unveiled by the provider. However, it was clear that the feature would need to be tweaked to suit a wider-base range of players and that is what the provider have done here, and expertly so! There are a wide range of features that balance out and provide a flowing experience without one bonus dominating the reels.
3. Max Win: UP TO 20,000X!
With the built-in Jackpot slot feature at BetUK, it's clear that we are fond of a gigantic jackpot! However, HelioPOPolis offers a unique experience as it isn't a jackpot slot but the maximum win in this game far exceeds what some other games refer-to as jackpot wins. A unique twist on their biggest feature and a large max win? AvatarUX definitely have high hopes for this game.
Five Things You Need to Know about HelioPOPolis
How to set your stake in HelioPOPolis
When looking to play the HelioPOPolis slot game, you'll need to know how and where to set your stake. Luckily, in the HelioPOPolis slot, it's very easy to set your stake, the stake value can be found in the bottom right corner of the reels and to change this, you simply need to click on the box and then choose a stake from the subsequent pop-up.
How to spin the reels in HelioPOPolis
Spinning the reels of the HelioPopolis slot can be done very easily, once players have chosen their stake - described above, then you simply need to click the circular spin button that sits above the stake button.
How does the number of paylines change?
In this slot, one of the main features of the game is the expanding reels feature that occurs during the bonus round. During the base game, you will start off with 486 paylines but after landing wins, this may increase with the number of rows rising to 6. In the bonus, winning combinations will allow the reels to increase to 8, allowing players to reach maximum level paylines.
Where can you find more info in-game?
If you've already found the stake and spin buttons, you won't be far away from the in-game information sections. As in the bottom right corner of the reels, you will find three lines, click this button and you will be presented with information given to players by the provider, in this case AvatarUX.
Perhaps the best 'POP' slot on BetUK?
We have a wide range of AvatarUX slot games on BetUK and their most popular games are the 'POP' series. We have everything from PiggyPop to Cherry Pop but HelioPOPolis brings a new dimension to these games that we have never seen before from the provider and it is these new elements that made HelioPOPolis one of the most highly anticipated releases of 2023.