Unfortunately, we are not available in your area!
You are visiting a version of our website that is outside of your region.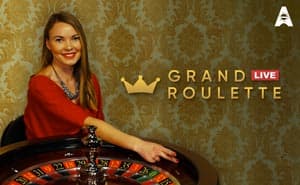 Grand Live Roulette
About Grand Roulette
Roulette is one of the best live casino games in the world, and Authentic Gaming bring this Grand version to your screens. So whether you want to bet on red or black, odd or even, a straight up single number, or slightly more complex inside bets, you can do so in sleek and sophisticated virtual surroundings from wherever you choose.
Play Grand Roulette on mobile, desktop or tablet here at Bet UK.
How to Play Grand Roulette
Total Bet
Grand Roulette offers a limited window to place your chips on your selected bets before each round. You can place outside bets such as Red or Black, Odd or Even, High or Low, Dozens and Columns. You can also place inside bets such as Streets, Six Lines, Corners, Splits, and Straights (a bet on a single number). All betting options are explained further in the game's information panel.
Spin
The Roulette wheel will be spun when the betting window comes to an end. The live dealer will announce when final bets are to be made, and you will also receive a prompt on your screen. At the end of the round, the winning number will be declared, and any bets settled.
Learn How To Play Roulette Online
Bet UK Grand Roulette Review
Live Roulette is one of the most popular online casino games in our collection, and it's great to have another fantastic variant for our players to choose from. Authentic Gaming's Grand Roulette caters for players of all experience levels, with various levels of support depending on whether you're accustomed to this style of game or not. If you do need a bit of explanation when it comes to Roulette strategies you can find some useful information in our live casino guide.