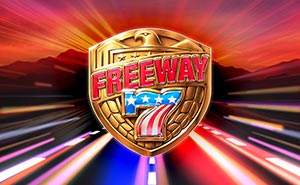 Freeway 7
About Freeway 7
Freeway 7 from ELK studios takes us back to basics with a retro style online slot game that is unlike their many creative releases.
With 3x3 reels and 17 paylines, it holds a more in-depth player perspective in comparison to the classic pub-fruit slot machines that you commonly find in retro slot games.
Freeway 7 theme
As mentioned above, Freeway 7 utilizes a retro theme that is popular amongst experienced casino players, it provides a more naturalistic land casino theme, similar to the intention of uk live casino games. However, what the slot also intends is to offer more than a retro-themed slot typically does.
Freeway 7 Talking Points
There are many reasons why we believe a player may look to play Elk Studio's Freeway 7 slot game. The simplest of which is the wide number of bonus features available to play. With Free Spins leading the bonus line-up, players can activate nudging reels, win multipliers and re-triggers which help lead to the maximum payout of up to 5,000x your stake.
We also believe that Elk Studio's Freeway 7 is one of the best retro themed slots available on the market, with modern-day adaptations to the retro 'pub fruit' theme, it provides a truly unique experience for all players.