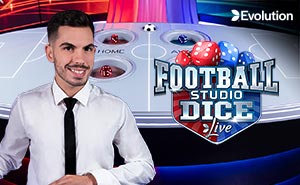 Football Studio Dice
About Football Studio Dice
When it comes to sports, there is nothing we like more at Bet UK, so why not combine that in a dice game hosted in our live casino?
Developed by Evolution, Football Studio Dice is based on the beautiful game, and the winner will be the set of dice which scored the most points. All players have to do is bet on the outcome, and if they are correct, they win. The max win on offer within this live casino game is 80x your stake.
How to Play Football Studio Dice
If you're ready to play Football Studio Dice, then head over to the live casino page and select them. Players will then be transported to a football-themed studio, complete with a live dealer who will be on hand to guide them through the game.
Place your bets by selecting whether you think the Home or Away team will win or if you think the game will end in a draw. After the betting window closes, the first half of dice rolls will play out, and players will see who is currently leading the score. Next will be the second half, and the totals will then be combined to show the winner.
The team with the highest score will win the game.