Unfortunately, we are not available in your area!
You are visiting a version of our website that is outside of your region.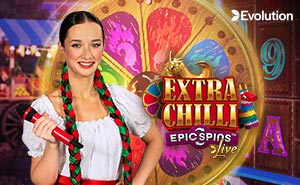 Extra Chilli Epic Spins
Extra Chili Epic Spins STATS
Provider - Evolution Gaming
Game Style - Live Casino
Theme - Chilli
Bonus - Free Spins, Pinata, Gamble Wheel
Max Win - 20,000x
Volatility - High
Extra Chili Epic Spins Top Features
Looking for a game that combines the very best of slots gaming and the very best of live casino? Look no further than the Extra Chilli Epic Spins slot game which does an excellent job of combining the two.
The game begins with the well-known six-reel Megaways slot, with Free Spins taking players to the live game show studio. These spins have six vertical reels alongside a horizontal reel that sits at the bottom of the reels, these may contain 'WILD' symbols that will substitute for any symbol and bolster opportunities to make winning combinations. Multipliers can also be awarded in this game by landing 'HOT' on the reels.
If you're a big fan of Megaways slots and are looking to play live casino games, or vise-versa, Extra Chili Epic Spins offers an excellent cross-platform opportunity. It also has a maximum win that rivals even the best Jackpot slot games.
Four Things You Need to Know about Extra Chili Epic Spins
How to set your stake
In the bottom left corner of the reels, you'll find a section that says total bet. Click on this section to see a selection of casino chips. Click the casino chip and place it on the section you wish to bet on to play the game.
How to play the game
Once you've decided where you bet on in Extra Chili Epic Spins, you will have to wait until the allocated time has expired and the game will automatically payout.
A one-of-a-kind game from Evolution
Evolution have clearly looked at how they can evolve Live Casino Gaming and their answer to that was to create a series of games that combine the very best of live casino and the very best of slots gaming together and thus we have Extra Chili Epic Spins.
When was Extra Chili Epic Spins released?
The game was one of the first releases from Evolution in 2023 with the original teaser going out in February 2023, creating hype ahead of the April 2023 release.