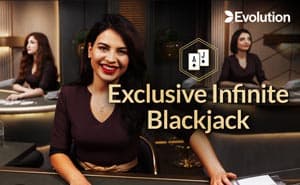 Exclusive Infinite Blackjack
Exclusive Infinite Blackjack STATS
Provider - Evolution Gaming
Game - Blackjack
Game Type - Live Casino
Min Bet - £1
Max Bet - £5,000
Side Bets: Hot 3, 21+3, Any Pair, Bust It!
Chat Option - Yes.
In-game Guide - Yes.
About Exclusive Infinite Blackjack
Exclusive Infinite Blackjack plays like a standard Blackjack game with the main difference in the game being the fact that there are an infinite amount of seats at this table.
To begin, set your stake by placing chips on the central position to play the regular game or other positions to play with side bets. Once your stake is selected, you will join the game and receive your cards, at this option, you will be given a series of options depending on the side bets you have chosen but the base of the game is standing and hitting.
Exclusive Infinite Blackjack Side Bet Options
Hot 3
This side bet utilises the three cards that are on the screen, the dealers upcard and your two cards. If they tally between 19-21, you will receive a payout, if their total is any other number, you won't receive a payout. These are the payouts you can receive:
Triple 7: 100:1
Total 21 Suited: 20:1
Total 21 Unsuited: 4:1
Total 20: 2:1
Total 19: 1:1
21 + 3
This side bet combines your original two cards with the dealers upcard to create the hands of a three-card poker game. The winning combinations with this side bet are flush, straight, three-of-a-kind, straight flush and a suited three-of-a-kind. These are the payouts that this side-bet provides
Flush - 5:1
Straight - 10:1
Three Of A Kind - 30:1
Straight Flush - 40:1
Suited Trips - 100:1
Any Pair:
This side bet will pay out if the two cards that you receive are a pair of any type. These cards can be of any suit, as long as they are the same number. Suited pairs will pay out at 25:1 while any other pairs will pay out at 8:1.
Bust It!
If the dealer goes bust, you will receive a payout.
8 Card Bust: 250:1
7 Card Bust: 100:1
6 Card Bust: 50:1
5 Card Bust: 9:1
4 Card Bust: 2:1
3 Card Bust: 1:1