Unfortunately, we are not available in your area!
You are visiting a version of our website that is outside of your region.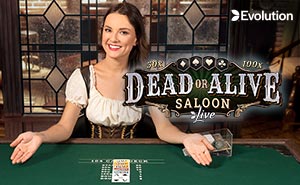 Dead or Alive Saloon
About Dead or Alive Saloon
Grab your gun and head to the saloon as you play the immersive Dead or Alive Saloon card game from Evolution. Played with a deck of 52 cards, this live casino game is all about picking which card will win the game and placing bets on which you think it will be.
Hosted by a live dealer, this casino game features additional bonuses and multipliers, which can enhance your winning potential, so why not head to the wild west today and see if you can win big?
How to play Dead or Alive Saloon
After heading to the Dead or Alive Saloon live studio, you will be allowed to place your bets on a single card number, a suit that will win or sets of numerical values. When the betting round is complete, the game will begin, and the dealer will select the card. If you matched correctly, then you'll win.
Dead or Alive Saloon Bonus Features
Within this live casino game, there are two bonus features which can help increase your winning potential. The first is the bonus multiplier cards which can increase your wins by up to 100x your stake if the double cards are in play, and the second feature is the Bounty Hunt event, where you will select one target and win the hidden multiplier attached to it.