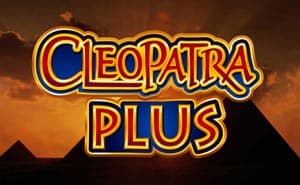 Cleopatra PLUS
About Cleopatra PLUS Slot
Cleopatra PLUS is played on a 3x5 reel online slot machine and uses 40 paylines. Use the Level Up PLUS feature and earn improved paybacks each time you play.
Cleopatra PLUS Slot Buttons
Settings
Press the Settings buttons to change the video quality and sound of this slot to suit you.
Line Bet
The Line Bet is the amount that is being staked on each of the games 40 lines. Use the right (+) and left (-) buttons to change the Line Bet.
Spin
Press the Spin button to place your bet and begin the next round.
Win
After each successful spin, the amount you've won will be shown in the Win window.
Balance
The Balance window lets you keep an eye on how much is left to play with in your account.
Cleopatra PLUS Slot Bonus Features
Deity Symbols
Choose your Diety symbol to act as a lucky mascot to appear on the reels during all of your spins. Pick one of 6 availalble Diety's, each coming with different features when they are placed on the reels. Choose one of Aset, Bastet or Hathor and they will be placed randomly across the reels, giving you more frequent wins. Choose Amun, Ra or Anubis and they will be placed less frequently, but in stacks, so the chances of winning bigger are higher!
Free Spins Bonus
3 or more Bonus symbols landing on the reels will trigger the Free Spins Bonus. You can choose to play your 5 Free Spins in any Bonus Realm, which each feature 5-7 locations. Choose from Alexandria, Nile River Valley and Pyramids of Giza. In your chosen realm, choose where to place your followers, with each location giving different features. You'll get one follower for each Bonus symbol you found on the initial triggering spin. Each location will give you a different feature - More Free Spins, Free Spins Multipliers, Cash Prizes, Last Spin Multiplier and a number of Super Spins. Place your followers around the locations to change your Bonus round to perfectly match your playstyle.
Level Up Plus Feature
As you play, you'll also be levelling up, winning more features and increased payback. Each time a Bonus symbol lands on the reels, you'll get one follower. The more followers you get, the higher your level will be, simple as that! Your level will still be there when you come back from playing my other top slots, so your winnings will never leave. Here's what you will be earning as you level up:
Level Unlock 1 - 2 Nile River Valley Bonus Realm 3 New Bonus symbol with 2 followers 4 3 new Diety symbols 5 New Bonus symbol with 3 followers 6 Last Spin Multiplier Feature 7 Pyramids of Giza Bonus Realm 8 Super Spins Feature
Bet UK Cleopatra PLUS Slot Review
Bet UK's top online casino brings you the anticipated variation on the insanely popular Cleopatra slot. The main difference is the Level Up Plus feature, which could see you have even more chances to win! Will Cleopatra Plus prove to be your lucky slot.