Unfortunately, we are not available in your area!
You are visiting a version of our website that is outside of your region.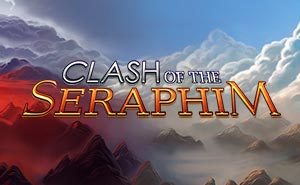 Clash of the Seraphim
About Clash of the Seraphim Slot
Clash of the Seraphim is a cluster pays slot from Blue Guru Games, which sees the celestial beings of darkness and light come together in a battle that could yield fortunes. The background of the slot is divided between a fiery ashen landscape with a demon on the left, and a bright ethereal vision on the right, with an angel in view.
The reels are set as 7x7, and there are a variety of symbols that can land on them, with red and green gems, spears and tridents, and angels and demons vying for dominance. A cluster of five or more will award a payout, with five matching symbols worth between 0.1x and 0.5x, and a full screen of matching symbols worth between 30x and 1,000x. There are also wilds and a scatter that can appear.
Clash of the Seraphim Slot Features
There are a few features on offer in Clash of the Seraphim, with wild symbols able to substitute for others to form winning clusters, and two drop areas randomly selected on each spin. If a wild symbol lands in a drop area, it will turn all other symbols in that drop area wild as well, which can lead to big cash prizes.
The scatter symbol is unique looking, with an eyeball set in the middle of some wings, and it will only appear in the central column of the grid. At the bottom of that column is a glowing blue light. Land the scatter in the light and you'll trigger free spins. Choose between dark and light free games depending on your volatility preference, with 8 dark spins available, and 15 light.
How to Play Clash of the Seraphim Slot
To play Clash of the Seraphim, you'll need to use the up and down arrows at the bottom of your display to cycle between the available betting options. Alternative, select the BET display directly to choose your bet for the next spin. The minimum bet permitted is £0.10, and the maximum is £100.
Similar Slots to Clash of the Seraphim
If you're looking for slots similar to this one, you could take a look at more from Blue Guru. Octopus Armada has one of the most unique themes we've ever seen, while Curse of the Mummies has a top win potential of 12,500x.