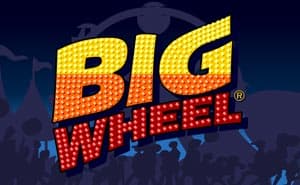 Big Wheel
About Big Wheel Slot
The Big Wheel online slot machine uses 1 payline on a 3x3 set of reels, and is the type of game that will appeal to players looking to bridge the gap between land-based slots and online casino versions.
Near Miss
The Near Miss feature is triggered when the Big Symbol is either one symbol above or below the central reel position. If the Big Wheel is only one symbol away, there is a 50% chance that the Near Miss feature will be triggered and award the Big Wheel Bonus.
Big Wheel
If the Big Wheel symbol lands in the very centre of the reels, the Big Wheel Bonus is triggered. You'll get one spin of the wheel to decide which bonus you'll be awarded.
SuperJackpot
Landing on SuperJackpot will award you the complete 30x Jackpot, aswell as triggering the Repeat Chance feature. This gives you the chance to keep on winning the Jackpot up to a total of 300x your original stake.
RoundABout
A light will move around the outer 8 symbols on the reels. Press the Stop button to pause the light on one of the symbols. The symbol that is then highlighted will be awarded with a 3 of a kind win.
RollerCoaster
Choose a number of reel steps to light up the fruits on the award panel. When you light up 3 of the same kind of fruit, you'll be awarded a 3 of a kind fruit win.
Duck Shoot
The Duck Shoot symbol will award 3 cherries on the award panel. You will then be given 3 chances to light up the next reward on the panel. Keep on playing until all symbols have been revealed and the Jackpot has been won, or until you fail to light the next award.
Ring the Bell
The Ring the Bell feature will cause each reel to move by 1 position. Each bell that then appears on the reels will award a prize. You can choose to move the reels again, or to take the money you already have. If you choose to move the reels again and no more bells appear, you will lose your prize and the game will be over. If another Bell appears, you will be given the same choice.
Crazy Reels
The Crazy Reels feature adds extra winlines to the reels, meaning extra wins can be awarded. Any 3 in a row symbols will then be awarded, no matter which direction they are in. There is a chance for the Crazy Reels feature to appear on any losing spin.
Bet UK Big Wheel Slot Review
The Big Wheel slot is a fantastic UK casino game, in that it has the charm of land-based titles while also perfectly incorporating modern features, with a variety of bonuses on offer. In fact, such is the allure of Big Wheel, it features on our list of most popular slots at Bet UK.