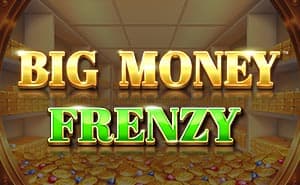 Big Money Frenzy
Big Money Frenzy Slot
Just as easily as they can create slot games that incorporate cutting-edge bonus features, Blueprint Gaming can add a classic style game to the repertoire, and that's what you'll find with Big Money Frenzy. Set along a 5x3 grid without too many bells and whistles, online casino players can benefit from a host of bonus features that may appear. Mystery symbols can prove to be valuable if they display the higher-paying icons, but the biggest wins can come from the Money Spins and Frenzy Spins rounds, both of which take the form of hold-and-win respins.
About Big Money Frenzy
As the title might suggest, Big Money Frenzy is themed around money of all kinds - you'll see jewels, cash, and gold coins alike tumbling on the reels in this 5x3 slot. Even the game's bonus features, Money Spins and Frenzy Spins, both fit in with the theme, requiring you to collect cash symbols in a bank vault.
How to Play Big Money Frenzy
Big Money Frenzy isn't a hugely complicated online slot. However, when playing Big Money Frenzy the first time through we recommend getting familiar with the basic controls for this slot game, so let's take a minute to run over the controls.
Set Your Stake
To either increase or decrease your stake size, you'll need to click the Total Bet button. This will allow you to choose from a list of available stake sizes.
How to Spin the Reels
Spinning the reels is a simple process. All you need to do is click on the Spin button located on the right side of the screen. This will cause the reels to spin once.
Big Money Frenzy Bonus Features
Money Frenzy
One of the most critical symbols in Big Money Frenzy is the golden question mark symbol. Triggering the Money Frenzy feature requires you to land at least three of these question mark symbols.
When you trigger this feature, you'll be provided with a few respins and whisked into a vault where only blanks and cash symbols can land on the reels. Landing cash symbols will net you a cash prize. Technically speaking, you'll only be given three respins, but they can add up quickly since the respins will reset every time you land a cash prize.
However, once you finally run out of respins, you'll receive the value of all the cash prizes you won throughout the round added together. If a Frenzy Spins symbol appears during the Money Frenzy feature, it'll trigger the other bonus feature, Frenzy Spins.
Frenzy Spins
The second bonus feature in this slot is called Frenzy Spins. This feature begins immediately after the Money Spins feature finishes. You'll be taken to another screen where you'll be granted more streak respins. However, unlike Money Frenzy, the respins won't reset in this feature.
Instead, the number of respins you get is determined by the number of Frenzy symbols you land. If you land more than one symbol, then you'll be awarded a payout at the end of every respin, not just at the end of the feature. You aren't just limited to whatever you initially landed to trigger the Frenzy Spins feature. You can land Frenzy symbols during the feature too.
Big Money Frenzy Review
The overall design of Big Money Frenzy is deliberately old-fashioned. At first glance, you probably wouldn't guess that this slot was released in 2021. With its blocky symbols, ten paylines, and classic 5x3 layout, this game can hardly avoid sparking a certain sense of nostalgia in experienced players.
Similarly, new players who are still learning the ropes might find the simplicity of this game appealing because it offers them a chance to focus on the gameplay without any unnecessary distractions. Finally, this online slot is an excellent choice for punters who simply enjoy the classic theme—after all, can you really go wrong with a money theme for a slot?
Part of the charm of Blueprint Gaming slots is that you're never sure exactly what you're going to get, other than some top-quality gameplay and the chance to win significant jackpot prizes along the way. Big Money Frenzy says most of what to expect in the title alone, but digging a little deeper you find that the top cash wins could be worth 50,000x your stake. These are most likely to come from the Money Spins and Frenzy Spins features, which follow the popular respin streak format.
Whether you're playing on a mobile or a desktop device, Big Money Frenzy offers crisp graphics that add to the gameplay, making it well worth a look.