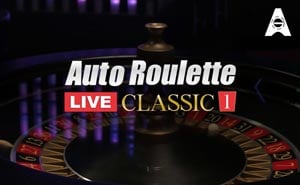 Auto Roulette Classic 1
Introduction to Roulette Auto Classic
As one of the world's fastest-growing live casino game developers, Authentic Gaming provides players with a new and innovative way to play live roulette with this automated online casino version of a classic that can be experienced in real-time.
In comparison to other forms of Roulette, such as visiting a real casino or through games that are not automatic, Authentic Gaming's Roulette Auto Classic combines a complete, fully live Roulette experience with the convenience and ease of use of an automated system. Not only does this allow for more games and a faster learning curve, but it also ensures you get the most out of your experience from the first minute.
Unlike some of Authentic Gaming's other live-streamed Roulette games which have live dealers (which we love), Roulette Auto Classic uses high-quality video and audio streaming to enable you to see and hear the automated wheel spin live in real-time, and place bets using an intuitive on-screen interface.
The fact that the spinning of the wheel is automated does not impact the outcome of the game and the odds are the same as if the wheel is spun by a professional croupier. Everything you see on screen is taking place live, as the ball really flies around before eventually coming to a stop. Automated spinning simply reduces the time between spins; perfect for players who like to play Roulette at a faster pace.
Playing Authentic Gaming Roulette Auto Classic
Roulette Auto Classic provides the live Roulette experience in an efficient form. While speed is improved with the system, the play style remains precisely the same, making it familiar to all players who already enjoy European Roulette. Each game includes the standard 37 pockets, including the house zero, and practically every betting option is included to match the style of players.
Utilising the game's automatic spin feature, a computer-controlled feature will allow the marble to drop onto the spinning Roulette wheel without the input of a physical dealer. Thanks to this additional functionality, players are also able to carry out other playing options, including tracking hot and cold numbers as well as saving real bets to repeat.
For players who prefer a hands-off approach, this feature allows as many games to be played on the same bet as they wish, by taking advantage of the Auto Spin. Playing can be as easy as placing a single bet, then sitting back to enjoy the game. For those who prefer a more hands-on approach, a high level of customisation is available to match any betting style, format or risk level. Authentic Gaming Roulette Auto Classic is all it says on the tin – traditional Roulette, done faster.
Features of Authentic Gaming Roulette Auto Classic
A classic Roulette game, despite Authentic Gaming's more modern approach to automated live Roulette, this game still follows all the conventions that players expect from their Roulette game. By using a physical Roulette wheel as opposed to a digital version, players can access the same experience they'd expect in a casino, with a little more speed added into the mix to suit their busy lifestyles.
Authentic Gaming's version of auto live Roulette also includes additional features ideal for the more serious players amongst us, including full reporting on statistics for the previous 250 games, plus full details of the win percentages and tracking for a variety of different options. This feature provides increased transparency to playing Roulette and offers players the insight they need to enjoy the game further from home.
A practical and easy-to-use version of live Roulette, Authentic Gaming Roulette Auto Classic is the ideal option for players looking for a convenient, fast and versatile experience. For placing wagers online in Roulette, Authentic Gaming's offering is one of the best around, and well-worth trying for anyone from veteran players to newcomers to live Roulette.
Roulette Blogs